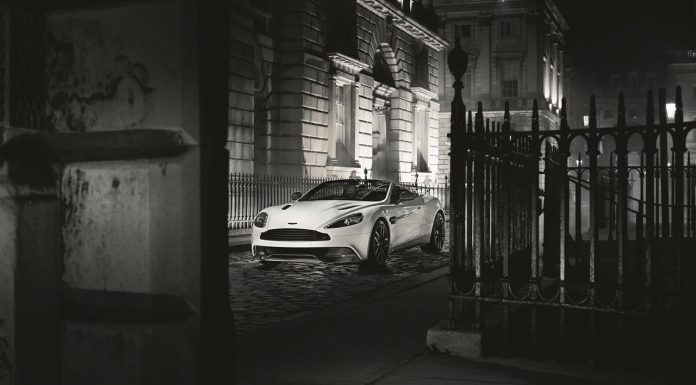 Just a couple of days after it dropped a rather revealing teaser video, Aston Martin has just revealed the 2015 Aston Martin Vanquish Carbon Black and Carbon White Editions. The special models are available both as a coupe and in Volante specification.
Just like the Aston Martin DB9 Carbon Black and Carbon White Editions, the duo of special edition Vanquishes remain mechanically identical to the standard car. Consequently, the 2015 Aston Martin Vanquish Carbon Black and Carbon White Editions feature the same uprated 6.0-litre V12 which now delivers 568 hp and an extra 10 Nm of torque. The gains have been achieved by reducing the exhaust gas back pressure.
While the engine modifications aren't significant, the fitment of a brand new eight-speed Touchtronic III automatic transmission for both the 2015 Aston Martin Vanquish and Rapide S is very significant. Herein lays the claimed performance improvements with emissions also being reduced.
Thanks to this new transmission, the 2015 Vanquish hits 96 km/h (60 mph) in a mere 3.6 seconds. That is an impressive 0.5 of a second faster than the current car and makes the updated Vanquish the quickest accelerating series production Aston Martin ever. Additionally, the new transmission and the revised final drive means the Aston Martin Vanquish can exceed 320 km/h (200 mph) for the very first time. Additionally, CO2 emissions have dropped by 10 per cent thanks to the advanced eight-speed 'box.
What does distinguish the Vanquish Carbon Editions from the regular model is the inclusion of some small visual modifications. For starters, both models feature gloss black window surrounds, unique brake calipers as well as black 10-spoke alloy wheels. In the cabin, Herringbone carbon fibre accents are found alongside black speaker grilles for the Bang & Olufsen surround sound system.
The only difference between the Carbon Black and Carbon White editions is that the former is painted black and the latter is painted white.