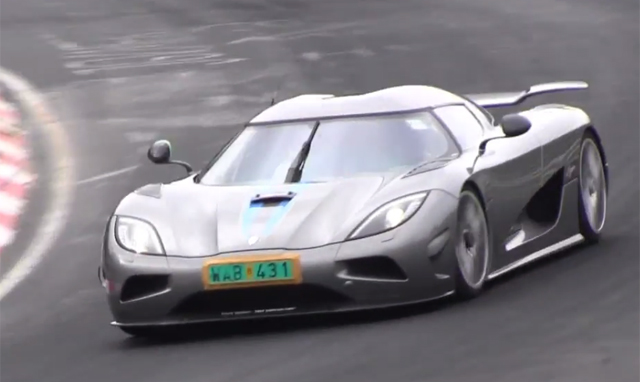 Just after an image of a Koenigsegg Agera R prototype testing at the famous Nurburgring Nordschleife emerged, a thrilling video of the development car hitting the track at full speed has been released.
[youtube]https://www.youtube.com/watch?v=q6DuR9yGcGI#t=118[/youtube]
Clearly running at full chat throughout much of the lap, it is obvious that Koenigsegg is seeing just what its potent hypercar is capable of around the famous circuit. One unique feature of this prototype is that it is wearing the same wing mirrors as the 1340 hp Koenigsegg One:1.
Beneath the skin, the existing Agera R is fitted with a twin-turbocharged 5.0-litre V8 engine which runs 28 bar of pressure. On regular 95 octane fuel, it manages to deliver an exceptional 960 hp while on E85 bio-fuel, that power figure soars up to 1140 hp! Incredible though, the Agera R engines passes worldwide emissions standards as well as maintaining a 16mpg fuel economy rating. Power is routed to the rear wheels through a 7-speed dual clutch gearbox. It combines a dry and wet clutch system for ultra-quick shifts. It is lighter, faster and more reliable than similar gearboxes.