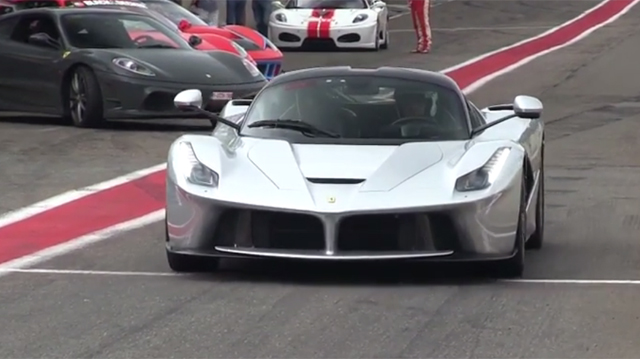 A stunning silver 2014 Ferrari LaFerrari recently hit the famous Spa Francorchamps circuit in Belgium alongside a black Ferrari Enzo and a host of other special Ferrari models.
[youtube]https://www.youtube.com/watch?v=Z7JKO4ARfVc#t=289[/youtube]
The video provides us with our first look at how the brand new LaFerrari looks on the track alongside its predecessor, the Enzo and despite being a hybrid, it certainly sounds just as good as the more traditionally powered Enzo!
In case you didn't know, the LaFerrari gets a 6.3 liter V12 which is connected to an electric motor similar to the system on the McLaren P1. The Ferrari F150 V12 has an output of 789 hp at 9000 rpm and 700 Nm at 7000 rpm while its electric motor has a maximum output of 161 hp and 270 Nm of torque. That delivers a total combined power output of 950 hp, allowing the new Ferrari Enzo to do 0-100 km/h in less than 3 seconds, 0-300 km/h in 15 seconds and a top speed in excess of 350 km/h.