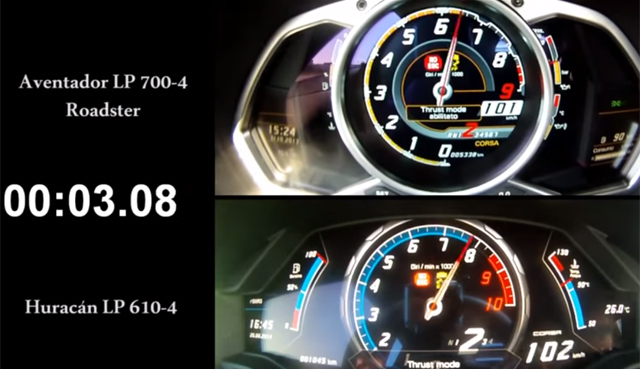 After it emerged that the Lamborghini Huracan had reached 96 km/h (60 mph) in just 2.5 seconds during a recent Car and Driver test, we stumbled upon this awesome video comparing the brand new Huracan with the mighty Aventador in a sprint from a standstill to 300 km/h and the results are rather unexpected!
[youtube]https://www.youtube.com/watch?v=mv2vYHpQOco#t=31[/youtube]
Despite having 90 hp less, the Huracan actually reaches 100 km/h marginally faster thanks to its new dual-clutch seven speed transmission. What's more, despite the Aventador's extra power, it only hits 300 km/h marginally faster than the Huracan. As a matter of fact, when the Aventador's speedo hits 300 km/h, the Huracan is sitting on 299 km/h after just 23.16 seconds of accelerating!
As a reminder, the Huracan features a 5.2-litre V10 delivering 602 hp at 8250 rpm and 413 lb-ft of torque at 6500 rpm. As mentioned, the new transmission is a key contributor to the acceleration of the Huracan. Dubbed the Lamborghini Doppia Frizione, this new transmission provides seamless gear changes without interrupting torque. One of the most interesting features allows the driver to hold down the left paddle shifter while braking. The Huracan will then automatically select the most appropriate gear to rocket the car out of the corner as fast as possible.
Another cool new feature of the Huracan is the ANIMA button. Like Ferrari's manettino dial, the ANIMA button allows the driver to select from three different driving modes. Each changes the engine mapping, steering, four-wheel drive system, exhaust note, transmission and the dampers.
[Via MSCC]