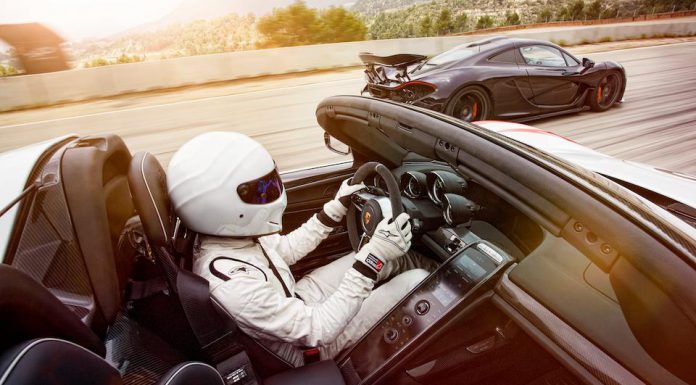 While we are still eagerly awaiting to see the McLaren P1, Porsche 918 Spyder and LaFerrari fight for hypercar supremacy together, Top Gear did manage to gather two of those cars together for its recent Speed Week tests which is where the following photo comes from.
Posted on the Stig's Facebook page (yes, the Stig incredibly has a Facebook page…), the picture shows the white suited test driver behind the wheel of a white Porsche 918 Spyder Weissach with the purple McLaren P1 we tested earlier in the year!
In case you didn't know, the headline for the Weissach Package is improved performance. From zero to 100 km/h takes just 2.6 seconds, 0.2 seconds faster than the standard model. It takes just 7.2 seconds to travel from zero to 200 km/h in 7.2 seconds (a 0.5 second reduction), and 19.9 seconds to pass the 300 km/h mark (a 2.1 second reduction). Under the hood, it features the same 887 hybrid powertrain as the standard 918 Spyder. This system consists of a a mid-mounted 4.6-litre V8 engine producing 608 hp independently – the highest specific power of any naturally aspirated Porsche engine and two electric motors mounted on each axle.
By comparison, the McLaren P1 features the 3.8 litre V8 M838TQ engine (upgraded from the M838T of the 12C production road car). Whilst on paper it looks to share similarities with the 12C's powerplant, that is far from the full picture. The McLaren P1 features a completely re-engineered twin-turbo variant of the V8 powerplant.
The M838TQ variant of the 3.8 litre V8 features a unique engine block casting which incorporates the electric motor. It gets all new turbochargers which run at 2.4 bar pressure, dry sump lubrication and a low sited flat plane crankshaft. On its own, the engine produces 727 hp at 7,300rpm, and 720Nm of torque from 4,000rpm. The hybrid drive comes via a single electric motor mounted behind the cockpit alongside the petrol counterpart. It produces 176 hp and 130Nm of torque with an effective torque output of 260Nm thanks to gearing. It can be used in a variety of different ways.