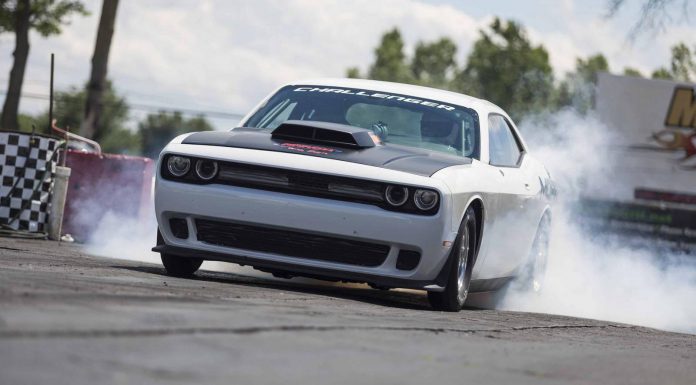 We brought you news of a potent 2015 Mopar Challenger Drag Pak test car being unveiled at the National Hot Rod Association U.S. Nationals meet yesterday. Now an awesome video of the car hitting the drag strip has been released and it has certainly got us amped to see the completed car revealed in the near future!
[youtube]https://www.youtube.com/watch?v=oEVlYISatgU#t=102[/youtube]
The test vehicle is built on the 2015 Dodge Challenger platform and sports a white body, a vintage stripe package as well as a 426 HEMI badge. It also uses the front and rear fascias of the Dodge Challenger SRT as well as a complete NHRA-compliant roll cage.
Under the hood, the 2015 Mopar Challenger Drag Pak test car features a 426 cubic-inch HEMI racing engine complete with an aluminium block, steel liners and custom engine calibration. It also features a 727 automatic transmission, a race-style stick shifter, aluminium driveshaft along with a trunk-mounted 12 volt battery.
The interior is currently based on the 2015 Dodge Challenger SRT interior with the addition of Mopar gauges, driver and passenger lightweight racing seats, along with safety nets and five-point harnesses.
The Mopar drag pak test car also is equipped with 15-inch front and rear wheels, 28-inch diameter drag style front tires (4.5 inches wide) and 30-inch diameter rear tires (9-inches wide). It currently features precision performance front and rear brake rotors, calipers and master cylinder.
The test vehicle's front suspension currently sports the 2015 Mopar K-Member and strut suspension geometry, front struts with adjustable compression and rebound. At the back of the car, racers will find a four-link rear suspension with Panhard bar, rear solid axle with 9-inch aluminium third member, rear shocks with adjustable compression and rebound, and an anti-sway bar.
As the car is still being tested, its specifications are subject to change if necessary.