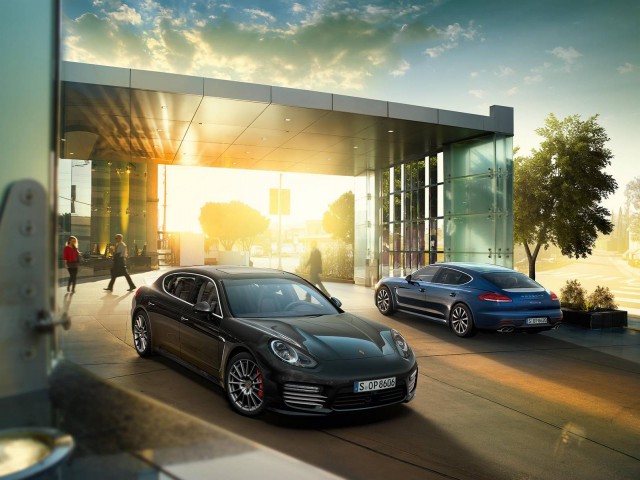 Porsche has just revealed some awesome new pictures of its 2014 Porsche Panamera models which are set to hold us through until the next-generation example arrives in around 2017.
The most potent variant of the 2014 Porsche Panamera range is the Turbo S. It is fitted with the same 4.8-liter twin-turbocharged V8 engine as the standard Panamera Turbo. However, thanks to new turbochargers featuring larger compressors, higher injection pressure which sees it increase from 20 bar to 140 bar, pistons featuring a new aluminium alloy and specifically coated piston rings, the 2014 Porsche Panamera Turbo S produces an impressive 50 hp more. That results in peak power of 570 hp.
Additionally, these engine changes have seen a dramatic increase of 50 Nm of torque over the standard Panamera Turbo. As a result, the new Porsche Panamera Turbo S pumps out 750 Nm of torque between 2250 rpm and 5000 rpm. When the overboost function is enabled, that increases to 800 Nm. When it is all said and done, the latest Panamera Turbo S can hit 100 km/h in just 3.8 seconds and a top speed exceeding 310 km/h. Despite these impressive power gains, the latest Panamera Turbo S uses the same 10.2 liters of fuel per 100 km as the standard Panamera Turbo, an improvement of over 11 per cent from the previous generation car.
Some of the other key features found in the 2014 Porsche Panamera Turbo S include Porsche Dynamic Chassis Control, an active roll stabilisation system, Porsche Torque Vectoring Plus, Porsche Ceramic Composite Brakes as well as Porsche's awesome active suspension management system.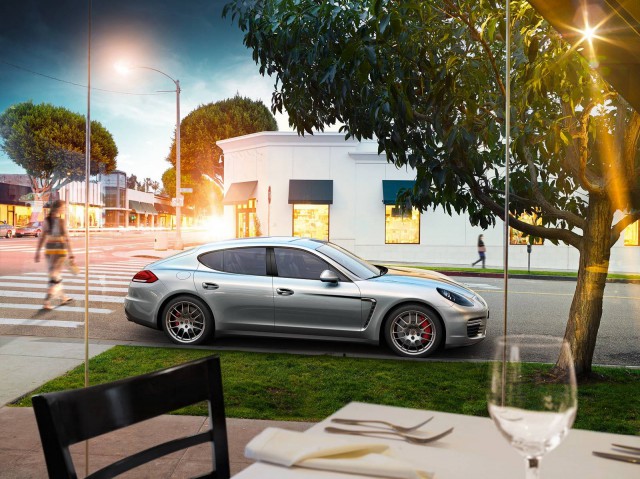 The new Panamera Turbo S is also available with a nifty sports exhaust system which sees the engine sound directed straight into the interior just like the McLaren 12C.
Also for the very first time, the range-topping Panamera Turbo S is available in Executive specification. This sees the wheelbase extended by 15 cm and the addition of thermal and noise-insulated windows, privacy glazing and a new interior lighting package for the rear.