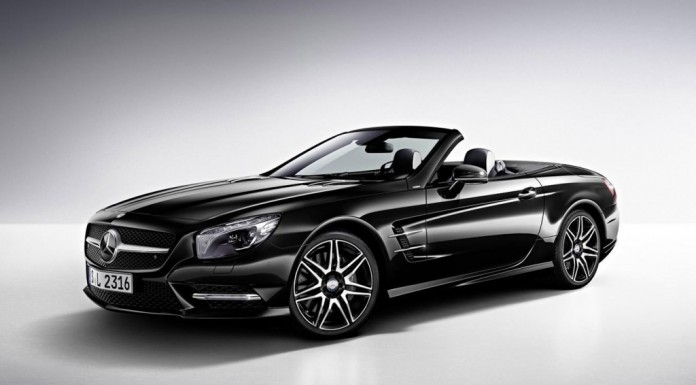 Mercedes-Benz has just taken the wraps of a new SL variant dubbed the 2015 Mercedes-Benz SL400. The new SL400 acts as the entry-level model in the SL series and takes this position from the SL550 which features a large V8 engine.
By comparison, the Mercedes-Benz SL400 features a twin-turbocharged 3.0-litre that delivers 329 hp and 354 lb-ft of torque. It is mated to a seven-speed automatic transmission and can reach 100 km/h in a mere 5.1 seconds. Not bad at all for an entry-level version! The car also returns an impressive 20/27 mpg city/highway whereas the SL550 returns 17/24 mpg on the city and highway respectively.
The Mercedes-Benz SL400 has been introduced for the 2015 model year and joins a selection of small updates for the existing models. For example, the SL550 features a twin-turbocharged 4.6-litre V8 delivering 429 hp as well as 516 lb-ft of torque. As a result, it hits 100 km/h in 4.5 seconds.
Elsewhere, the Mercedes-Benz SL63 AMG and SL65 AMG remain available with the range-topping SL65 AMG complete with a massive twin-turbo 6.0-litre V12 engine delivering 621 hp and a brutal 738 lb-ft of torque. As a result, it hits 100 km/h in 3.9 seconds. By comparison, the SL63 AMG has a twin-turbo 5.5-litre V8 and 577 hp as well as 664 lb-ft of torque and hits 100 km/h in a very respectable 4.1 seconds.