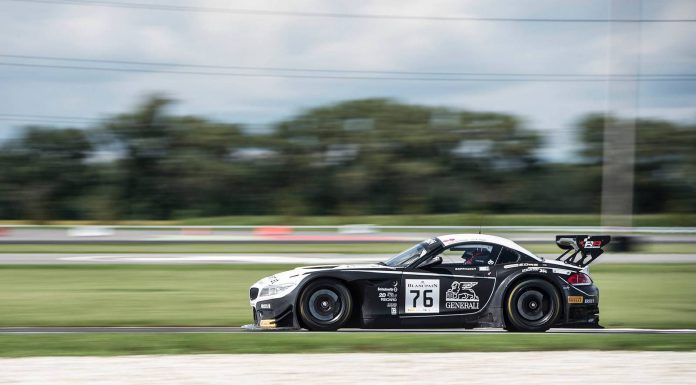 Slovakia Ring hosted a thrilling fourth round of the Blancpain Sprint Series this past weekend where BMW took the main win in a hard fought one-on-one BMW battle. Two BMW teams; the BMW Sports Trophy Team Brasil and BMW Sports Trophy Team Schubert were both eyeing on their first Blancpain GT win but in the end it was Dominik Baumann who scored the maiden win driving for Team Schubert.
In the final laps, the two cars were involved in a hot chase with Baumann tailing Sergio Jimenez who was piloting a BMW Z4 GT3 fielded by the Brazilian BMW Team. Baumann's opportune moment came with only three minutes left at turn six where he shot past Jimenez all the way to the chequered flag. Jimenez settled for second while René Rast in the No.2 Belgian Audi Club Team WRT Audi finished in third overall.
The fate of the Audi cars was almost sealed during the opening laps with pole-sitter Cesar Ramos in the No.1 Belgian Audi Club Team WRT Audi getting away with a slow start. Five cars behind him which included three Audi's were entangled in the gravel trap soon after approaching turn 1. It was the No.2 Audi of Enzo Ide that ran wide and in the process of rejoining the track, he drove the pack behind him into the gravel trap.
They included Hari Proczyk in the No.28 Grasser Racing Team Lamborghini, Fabian Hamprecht in the No.9 Belgian Audi Club Team WRT and Matheus Stumpf in the #30 BMW Sports Trophy Team Brazil; they all had to abandon their cars. Niki Mayr-Melnhof in the No.6 Phoenix Racing Audi also retired his Audi after hitting the barriers. The field was now lead by Nico Verdonck in the No.84 HTP Motorsport Mercedes, Cacà Bueno in the No.0 BMW Sports Trophy Team Brasil and Miguel Toril in the No.63 Fortec Mercedes.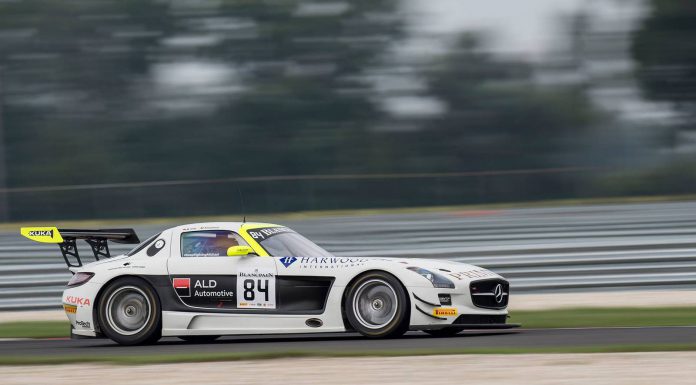 A series of pit stops followed and Verdonck lost the lead. Series leader Maximilian Götz in the No.84 HTP Motorsport Mercedes then took the lead for a while but Jimenez came flying past him while Baumann was chasing hard from third. Baumann was able to take out Gotz before focusing on the leading car of Jimenez. Behind them, Rast in the No.2 Belgian Audi Club Team WRT Audi passed Gotz for third position right after Baumann has snatched the lead from Jimenez.
The next round will head over to Portugal on 5th September.
Main race video:
[youtube]http://www.youtube.com/watch?v=Q6YOsnzWFvM[/youtube]
Results: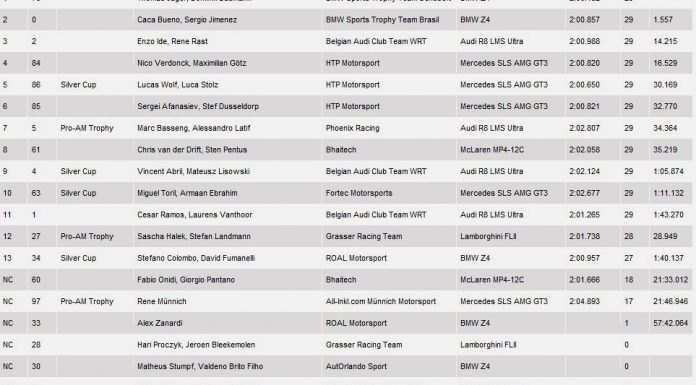 Quotes:
Dominique Baumann (#76 BMW Sports Trophy Team Schubert BMW): "The car was brilliant. I didn't know the performance from the car, because we had a problem in Q1 and I wasn't able to do a quick lap. But if you look at it now, we should never do a qualifying session. Winning from the last on the grid is just amazing. After the pitstop I saw the other cars were struggling a lot, especially in the second sector, and that is where I could make up time. I knew it would be risky to overtake the BMW, but when I did, it was amazing."
Cacá Bueno (#0 BMW Sports Trophy Team Brasil): "We did not make the best of starts, everyone was getting a little crazy in turn 1. We had a very tough weekend, we qualified 21st, more than two seconds behind pole position. We changed the engine and started from pitlane for the Qualifying Race. Our car is not the best one, but it's fast enough. It was a great race, a great result. We think that in Portugal or any other race we can win now."
René Rast (#2 Belgian Audi Club Team WRT Audi): "Before I jumped in the car, I didn't think we would end up in the top-5. We had a little bit of an advantage, since we had new tyres that we didn't use in qualifying. I pushed right away, I closed the gap and I could overtake two or three cars. In the final lap, the Mercedes was just in front of me, sliding sideways. He tried to defend a position, I tried to gain a position, we were both on the limit. There was a bit of a contact, when I overtook, but it was just normal racing. We can be very happy, this is good for the championship."