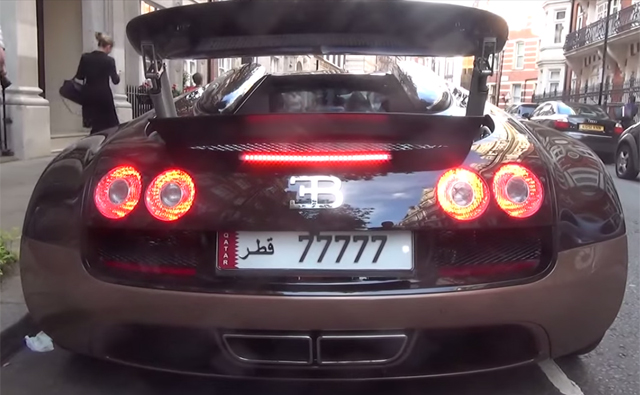 With just three examples created, the Bugatti Veyron Grand Sport Vitesse Rembrandt really is one of the most unique Veyrons ever produced. Now one of them has arrived in London and looks truly spectacular while on the move.
[youtube]https://www.youtube.com/watch?v=1nSsXRwBQ1Q[/youtube]
The art world views Rembrandt Bugatti, known commonly as Rembrandt, as one of the most notable and artistically independent sculptors of the early 20th century. His fame was achieved through his animal sculptures and cast a large part of his work in bronze. The pieces are now on display in several of the most prestigious collections and museums across the globe for the public to admire.
The body of the "Rembrandt Bugatti" Legend Vitesse was designed with the "horizontal split" that we have seen on the Vitesse a number of times before. This example is largely composed of bronze-coloured clear-coated carbon as a gesture to the artist's favoured material. The vehicle's lower half is painted in an elegant and mellow light shade of brown, "Noix" that works very well with the aforementioned color. The famous Bugatti horseshoe gleams in real platinum that forms the front grille, with platinum also ringing the EB logo at the vehicle's rear.
As with all cars from the Veyron Legends series, the Rembrandt features an 8.0-litre W16 engine that achieves an unparalleled level of power (1200 hp) and torque (1500 Nm) from 3000–5000 rpm, and can accelerate from 0–100 km/h just in 2.6 seconds.