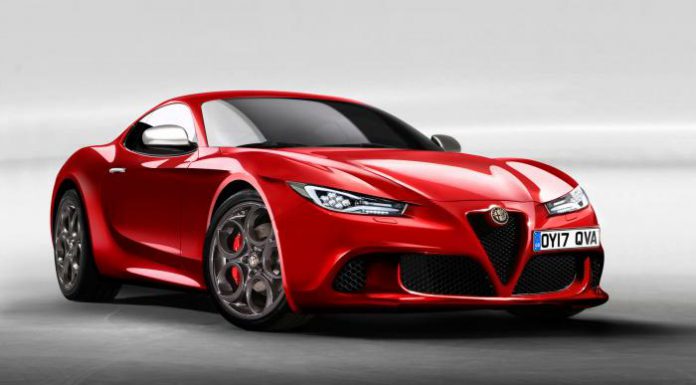 The Jaguar F-Type and Porsche 911 could have another competitor to deal with in the next three years because new reports have emerged suggesting that a new Alfa Romeo sports car, possibly dubbed the 6C Coupe, is being developed.
Auto Express believes that the Alfa Romeo 6C will be based around the recent Maserati Alfieri concept which itself is set to reach production in 2016. The Alfa Romeo 6C is likely to arrive the following year and in typically Alfa Romeo style, a huge amount of focus will be put into ensuring that the car looks as good as possible.
As a result, Auto Express suggests that the sports car will receive tear-drop shaped side glass like the Alfieri as well as a very sharp front-end design incorporating thin LED headlights and the traditional Alfa Romeo shield grille. At the tail end, the Alfa Romeo 6C will reportedly receive quad tailpipes as well as a short decklid and a sweeping rear window.
It is interesting that the 6C will utilise the same platform as the Alfieri considering the company has its own next-gen platform in the works for the Giulia sedan and SUV. Beyond the platform, the Alfa Romeo 6C will borrow further technology from Maserati. Under the hood, it will reportedly receive the 3.0-litre twin-turbocharged V6 engine from the Maserati Ghibli. This engine could be tuned to deliver over 500 hp and would help it rival the F-Type R Coupe as well as the Porsche 911 Turbo,
Just like the Alfa Romeo 4C and 8C, production of the 6C will quite likely be limited. Auto Express believes that production will be limited just a few thousand examples.
[Via Auto Express]