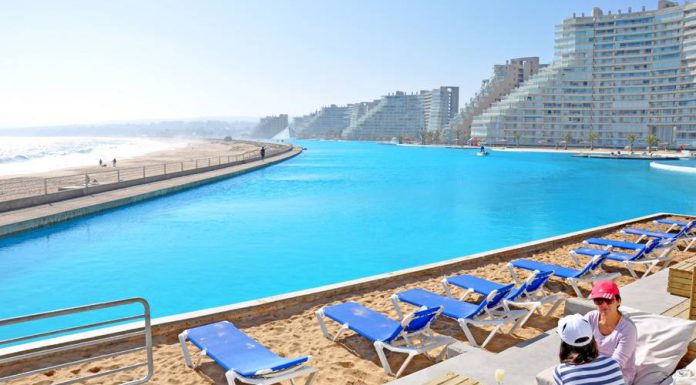 The swimming pool you are looking at is unsurprisingly the world's largest. Extending for more than a kilometre, covering an area of eight hectares and holding 250 million litres of water, the massive stretch of bright blue water acts as the star of the massive San Alfonso del Mar private resort in Algarrobo, Chile.
The pool is so large that it basically constitutes a man-made lake and at one end, is 35.1 metres deep! As you may have guessed, such a massive swimming pool is significantly different than your average backyard one. It was created by Crystal Lagoons with the water being pumped inside from the Pacific Ocean. It is then filtered and thanks to the manufacturer's unique technologies, maintains a very transparent and turquoise colour.
During summer, the pool maintains an average temperature of 26 degrees Celsius, which is nine degrees more than the sea literally right next door. Bordering the swimming pool are man-made beaches connecting the water to the hotel buildings.
For sport lovers, there are sport schools holding training classes on sailing, kayak, scuba diving, swimming, ocean navigation, tennis and paragliding, and they also will find at their disposal artificially-lit five-a-side soccer courts, volleyball courts and tennis courts, a real statutory soccer field and a gym with large windows that enjoy a stimulating overview of the lagoon.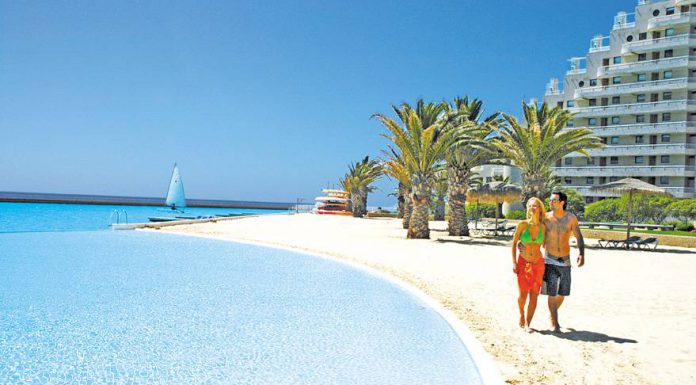 The facility also includes The Beach Club. It features a spa, a tempered beach under a crystal pyramid, open-air Jacuzzis, sauna, beauty parlour and gym; the exhibition and cultural activities room; the open-air amphitheater; the Spa; the supermarket and the North Bay pub-restaurant with its own dock and a large terrace along the lagoon's coastline – where often amusing parties and shows are held – are also part of San Alfonso's facilities.
It goes without saying that if you are visiting South America on a holiday, then San Alfonso del Mar is the place to go!