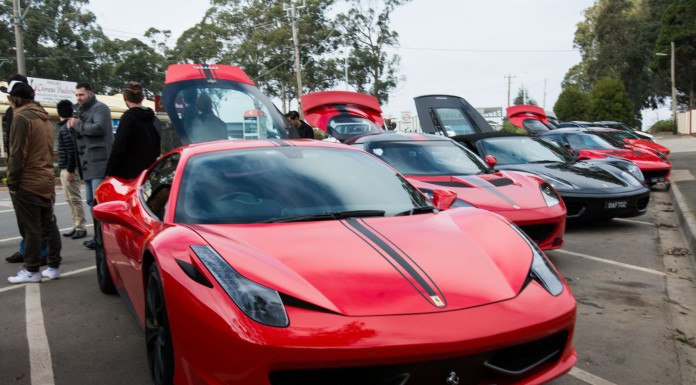 On Saturday August 16, GTspirit and D.P. Productions had the privilege of joining the Melbourne Super Car Club (MSCC) on their most recent drive event. The MSCC has some of the nicest sports cars and supercars in Australia in its ranks and our experience highlighted perfectly just how passionate Melbourne supercar owners are. The drive saw us travel from Yarra Boulevard in Kew, through to Kinglake via some truly spectacular, flowing mountain roads and then down and across to Healesville for lunch.
We arrived bright and early in the morning fog and were anxious to find out what cars would be attending. We were initially greeted with a stunning Ferrari 458 Italia as well as two Lotus Evora S's and soon after, more and more spectacular cars started to arrive. The first was a custom built Ultima GTR finished in black and outfitted with an LS7 7.0-litre V8 engine. This powerplant is particularly noteworthy as it powers the potent C6 Chevrolet Corvette Z06. Tuned to deliver 450 hp to the rear wheels, this Ultima is certainly one of the fastest street legal cars in Australia. After all, the range-topping Ultima GTR720 is one of the quickest cars on the planet with a lap around the Top Gear Test Track faster than both the Ferrari FXX and Caparo T1. Later during the day, we got a glimpse of just how ferocious the car is.
Other awesome cars to arrive shortly after included a Ferrari 360 Challenge Stradale, two 360 Spiders, four Mercedes-Benz C63 AMGs, another Lotus Evora S, a classic red Lotus Esprit and a wicked looking white Aston Martin V8 Vantage.
Once we got through the congested Saturday morning roads, we hit some spectacular pavement on the way to Kinglake. For this section of the drive, we were behind a trio of C63 AMGs with the silver one in front of us fitted with an aftermarket iPE exhaust system and matte black ADV.1 wheels. The standard C63 AMG is already an incredible sounding car thanks to its brutal 6.2-litre V8, but when outfitted with a new exhaust like this one, it shatters your perceptions of how good a Mercedes can sound. On the twisty and narrow road heading up to Kinglake, we were able to fully take in the intoxicating exhaust growl as it crackled and popped on the overrun and during downshifts. All the while we had the white V8 Vantage behind us making for a car lover's heaven.
Following a brief pit stop in Kinglake, a small town destroyed by bushfires in 2009, the most exciting part of the drive kicked off as we rocketed to our lunch stop at Healesville. Despite the fog lifting making for a sunny Saturday, there was minimal traffic impeding on our progress. Through this section, we were happily cruising at the back of the pack for one very good reason; the black Ultima GTR was just in front of us! When the roads straightened up, one quick burst of the throttle sent the Ultima into the distance with the aggressive V8 bellow underpinning the speed.
At one stage, we were left alone with the Ultima after waiting for passing traffic at a dog-leg turn. As soon as the traffic passed, we witnessed just how capable a sub-1000 kg, 500 hp+ supercar is. As we rounded a 90-degree right-hand bend in our chase car, the Ultima took off like a rocketship and in what seemed like 3 or 4 seconds, was already several hundreds of metres ahead of us through a set of sweeping bends. Thanks to the soaring rear wing, front splitter, canards and sticky Toyo R888 rubber, the Ultima was able to keep on accelerating through the corners like nothing we've ever seen before.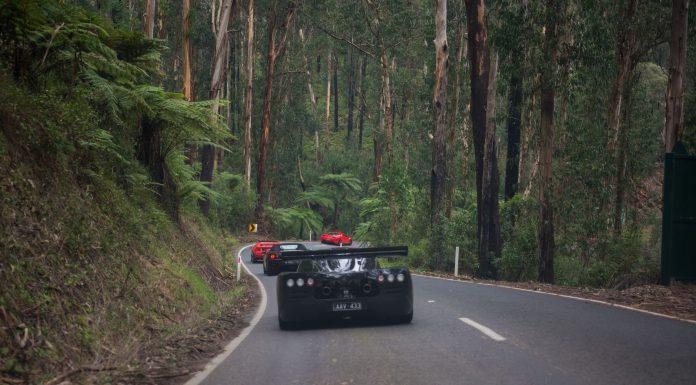 Things then calmed down slightly as we re-joined the pack and entered a stunning forested area with surprisingly abandoned and smooth roads. In front of the Ultima was a black 360 Spider, the Esprit as well as the 458 Italia finished in Rosso Corsa. Despite having three admittedly loud cars between us and the 458 Italia, we were still able to hear its screaming 4.5-litre V8 during brief moments of acceleration out of the tight corners.
In what seemed like 5 minutes but was more realistically about 30, we arrived in Healesville. While cruising through the town, we passed a Ferrari 599 GTB but with a rare Ultima in front of us, it barely warranted a passing glance.
All in all, it was a truly incredible day!
We would like to once again thank the Melbourne Super Car Club for having us along as well as D.P. Productions for joining us to provide the photos you see.