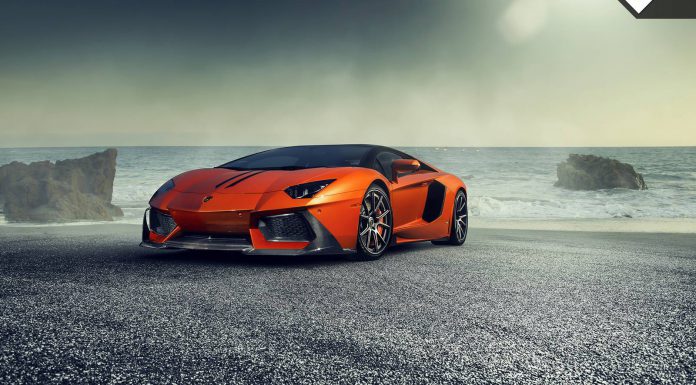 Vorsteiner has just revealed its new front spoiler for the mighty Lamborghini Aventador dubbed the Zaragova. The Zaragova has also been added to the extensive Aventador-V programme with it joining a host of other visual and aerodynamic modifications offered for the Aventador by Vorsteiner.
Manufactured from strong and lightweight carbon fibre, the Zaragova front spoiler not only adds an extra sense of aggressive to the supercar, but it also serves an aerodynamic purposes.
According to Vorsteiner "the vertical blades direct air away from the body to further decrease drag and turbulence. This significantly increases downforce and the stability of the front end at high speeds by directing the air away reducing frontal pressure.
"For the last few months, we have been working on the newest addition to the Aventador-V program, the Zaragoza front spoiler. The new front spoiler was a particularly difficult feat of ingenuity, artistry, and craftsmanship as it is constructed to fit with the existing OE front bumper in a single piece of carbon fiber. To ensure this spoiler is incorporated and unified with the distinctive Aventador character, lines from the factory bumper are extended to flow with the lower, wider, and longer carbon spoiler."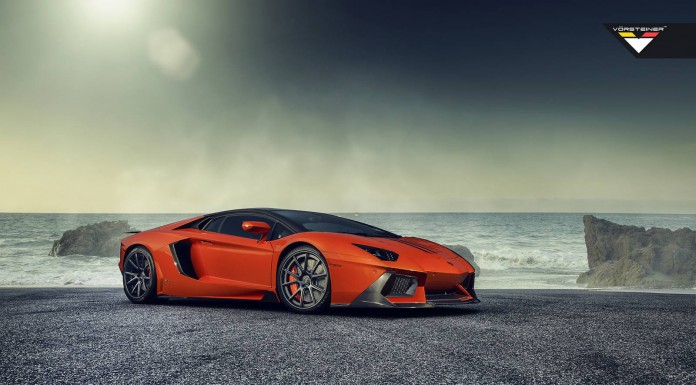 The Zaragoza front spoiler is approximately 25mm lower, 25mm wider, and 200mm longer compared to the factory front bumper.
We are of course very familiar with the selection of other upgrades offered by Vorsteiner for the Lamborghini Aventador. One of the nicest upgrades is the company's carbon fibre rear wing for the Aventador. Vorsteiner has tested the new rear wing up to 180 mph and claims that it doesn't set of warning indicators like other aftermarket wings for the Aventador can do. This has been achieved by actually removing the standard rear wing and replacing it with Vorsteiner's own which can also fully retract under the deck lid. A special diffuser can also be ordered to finish of the look of the rear-end.