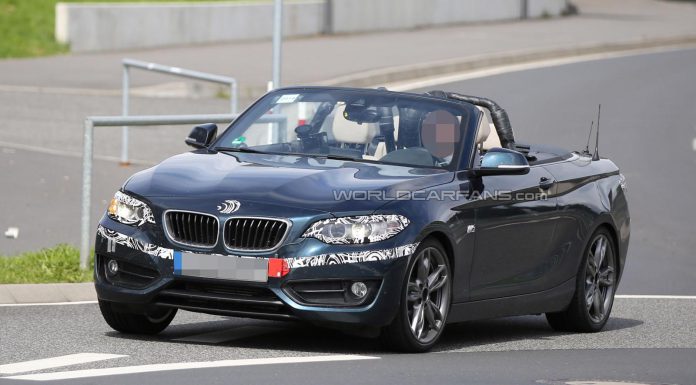 The soon-to-be-revealed BMW 2-Series Cabriolet has been spied testing once again. In this past, we have seen the upcoming BMW M235i Cabriolet testing and the latest prototype snapped seems to be an entry-level model judging by its lack of aggressive and sporty bumpers. It was testing at BMW's technical centre at the Nurburgring.
This particular prototype features two prominent rollover hoops which are large enough to give the impression of the car having B-pillars. When the BMW 2-Series Cabriolet reaches production however, we expect these to be much less intrusive. They could also be completely hidden and automatically rise when the car is about to roll.
Compared to M235i Cabriolet prototypes snapped testing in the past, this one features far more subdued bumper styling as well as small brakes and a set of nice wheels. Beyond the M235i Cabriolet, other versions are likely to include the 228i Cabriolet, 220i and 220d. Additionally, an all-wheel drive version of the 228i is likely with it being dubbed the 228xi Cabriolet.
If you're in check with the latest rumours regarding the 2-Series, there is a very strong possibility that an M2 variant is being developed, likely to deliver around 380 hp. While BMW has yet to confirm the existence of such a car, it is speculated that the 2016 BMW M2 will debut next year and be powered by an uprated variant of the 3.0-liter, twin-turbocharged inline-six cylinder engine found in the M235i which it itself produces an impressive 322 hp.
Considering that BMW launched an M4 Convertible just a few months after the M4 Coupe, we expect the same story for a possible M2 Cabriolet.
If a BMW M2 Cabriolet does indeed come to fruition, it would hold a very unique position in the market. As it stands, none of BMW's major rivals offer a convertible performance-oriented model at its likely price bracket.
[Via World Car Fans]