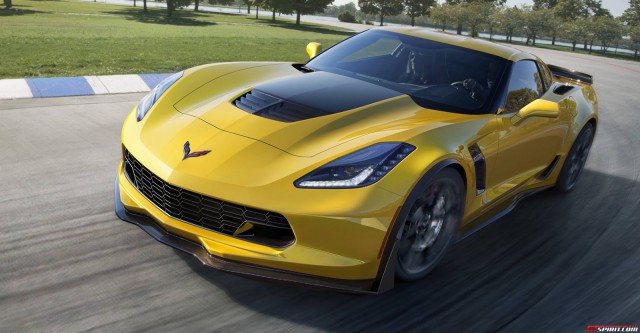 Prior to deliveries commencing, the official order guide for the 2015 Chevrolet Corvette Z06 and Z06 Convertible has leaked online. The detailed guide lists every single standard and optional feature on the car and is consequently, very comprehensive.
Arguably the most important thing to come from the order guide is the official weight of the new Corvette Z06. The C6 Z06 tipped the scales at a fairly modest 3175 pounds but the new car comes in at 3524 pounds in hardtop form and 3582 for the drop-top. This is somewhat surprising considering the new car uses a lighter aluminium structure but the extra weight is certainly offset with the addition of 150 hp!
The 6.2-litre LT4 supercharged V8 engine of the 2015 Chevrolet Corvette Z06 officially delivers 650 hp and an equal 650 lb-ft of torque. Peak horsepower is reached at 6400 rpm while peak torque is found at 3600 rpm. Excitingly, 90 per cent of the total torque figure is available from just 2500 rpm through to 5400 rpm.
When recently discussing the brutality of the engine, chief engineer for Small Block engines Jordan Lee said, "Torque is the pulling power of an engine and the LT4's abundance of it at every rpm in the engine's speed range helps the 2015 Corvette Z06 accelerate quicker and respond nearly instantaneously.
"It's also worth mentioning that the LT4's supercar performance numbers are achieved with an engine that is nearly the same size as the very compact LT1 engine introduced in the 2014 Corvette Stingray. The power density of the LT4 makes it one of the smallest and lightest 650-hp engines in the industry."
The engine leverages direct injection, active fuel management, cylinder deactivation and continuously variable valve timing to produce that performance. The gearbox choice is between a traditional seven-speed manual or an all-new, high-performance eight-speed automatic transmission with paddle shifters for manual control.
[Via Corvette Blogger, Teamspeed]