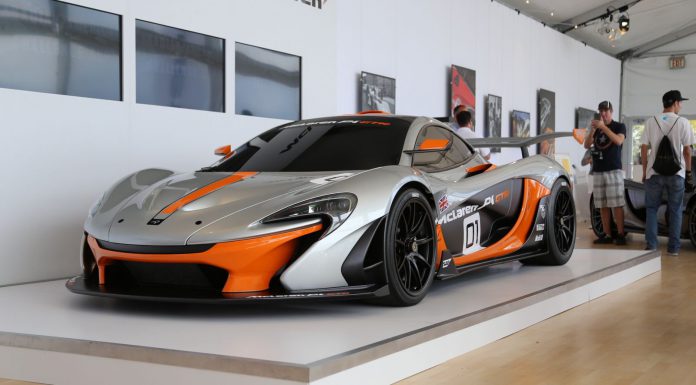 The McLaren P1 GTR Design Concept is arguably the star of this years Monterey show. The P1 GTR has been created to preview the upcoming ultra-exclusive track-focused variant of the P1 hybrid hypercar and features a range of upgrades setting it apart from the road-going model. It is likely that the production-spec P1 GTR will remain very similar to the concept.
McLaren will provide specialist driver training, human performance and access to the McLaren racing simulator to improve and enhance the drivers skills. McLaren Special Operations will maintain and run all cars and manage the programme that will be open to P1 customers.
Back to the stunning car which features a number of improvements over the P1 road car. The front track has been increased by 80 mm and has been completed with an aggressive front splitter even more pronounced than the road cars. Reprofiled low temperature radiator ducts seamlessly flow into the leading edge of the aggressively flared front wheel arches while the active aerodynamic flaps from the 'normal' P1 have been maintained.
All around the car aerodynamic enhancements have been made, the rear clearly featuring the most drastic and visible changes. There is a massive twin-element wing mounted on large carbon fibre uprights. The wing features a Drag Reduction System (DRS) to boost performance and has also been honed to provide extra downforce compared to the road car. Elsewhere, a brand new exhaust system is featured made from Inconel and titanium alloy complete with huge twin exhaust tips.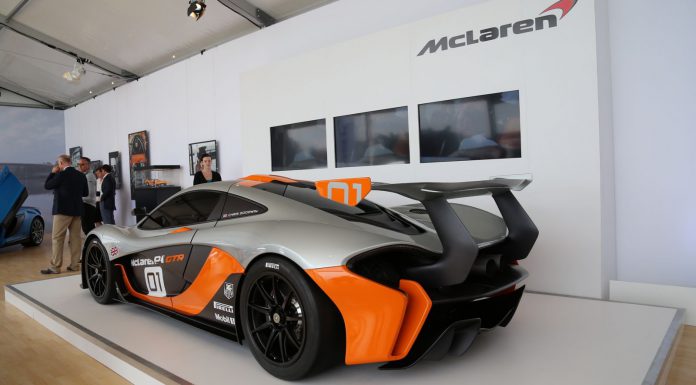 Beyond the aerodynamic changes, the McLaren P1 GTR Design Concept receives a small boost in power with it now delivering 986 hp (1000 ps) compared to the 903 hp of the road car. This improvement in power combined with a reduction in weight is sure to make the P1 GTR an outrageously fast track machine.
The McLaren P1 GTR Design Concept has been finished in an all new livery that harks back to the original McLaren F1 GTR test car with it too incorporating a silver and orange livery.