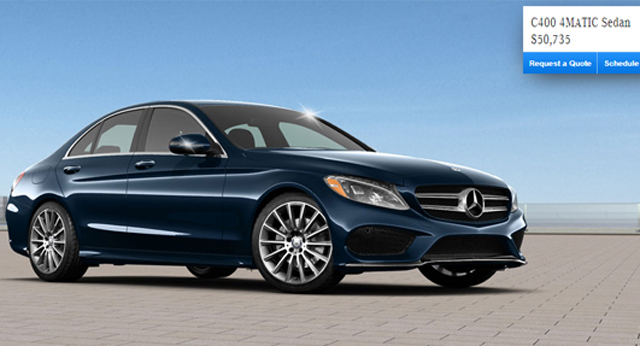 The online configurator for U.S. spec 2015 Mercedes-Benz C-Class models has just been introduced and it enables you to perfectly spec your ideal C-Class variant. While the only versions the United States have received so far are the C300 and C400, there are enough optional extras to make one stand out from the rest.
Elsewhere in the world, there are eight different engine choices. At the base lay 7 four-cylinder engines and one V6 petrol engine. Out of those there are three diesel engines, four petrol engines and one hybrid diesel. In C180 guise the C-Class will have a 1.6 litre four cylinder petrol engine producing 154 horsepower and 147 lb-ft of torque. The Mercedes-Benz C200, is powered by a 2.0 litre four cylinder producing 184 horsepower and 221 lb-ft of torque. The C250 also has a 2.0 litre four cylinder producing 211hp and 350Nm of torque. The petrol line-up is topped by a Mercedes-Benz C400 variant that comes standard with Mercedes' 4Matic all-wheel drive system. It is powered by a 3.0-liter V6 engine delivering a total of 333 hp and 354 lb-ft of torque.
The diesel line-up includes the C200 Bluetec with a 1.6 litre four cylinder engine (136hp / 300Nm), C220 Bluetec with 2.0 liter four cylinder (170hp / 400Nm) and C250 Bluetec also with a 2.0 liter four cylinder (204hp / 500Nm). The C300 Bluetec Hybrid features the same 2.0 liter four cylinder engine as the C250 but thanks to the pairing with a 27hp strong electric engine has a reduced fuel economy of only 3.6 liters per 100 km compared to 4.3 l / 100km in the C250. The entire lineup has a strong focus on efficiency and fuel economy with even the 333hp strong C400 reaching scores below 8 liter per 100 km.
Two new six speed manual transmissions which allow for easier, more effortless gear changes are offered with the four cylinder engines. Additionally, Mercedes' 7-speed G-Tronic Plus automatic transmission is offered. The gearbox has been further tuned for increased fuel efficiency. In the interior the design of the center console is significantly different between the manual and automatic C-classes.