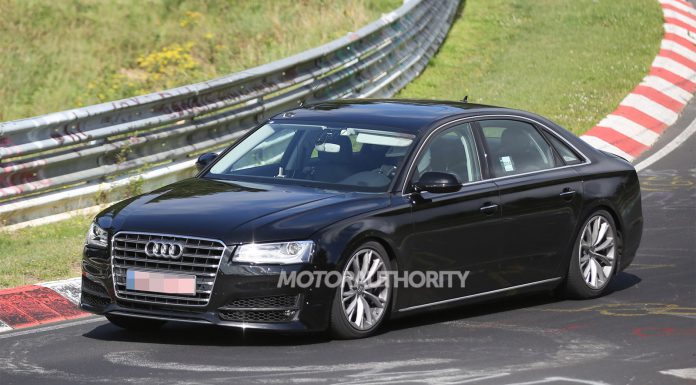 The next generation 2018 Audi A8 has been spied testing on the Nurburgring for the very first time. While the car will be far from a racetrack focused racer for the road, testing at the unforgiving circuit will ensure the new A8 is perfect when it reaches production.
Internally known as Project D5, the 2016 Audi A8's design is set to have blended British elegance with Italian sportiness as well as German solidity. Beyond these rather broad influences, the next-gen A8 is said to receive a smaller single frame front grille, a remodelled rear end as well as a large greenhouse feel thanks to a large sunroof.
The 2016 Audi A8 was originally pinned to ride on the MSB platform developed by Porsche. However, Audi wanted to go it alone and has decided that its new PL65 platform will support the next-gen A8. In order to make the platform more viable for the Volkswagen Group, the new VW Phaeton will also utilise it as will a potential Audi Q9 Coupe and Q8 crossover.
Elsewhere, the 2016 Audi A8 will introduce a host of new technologies for Audi including three levels of autonomous driving as well as an extremely advanced infotainment system. Additionally, the driving dynamics will be a key focus for Audi with it pinned to receive on-demand torque vectoring, re-engineered air suspension and more.
[Via Motor Authority]