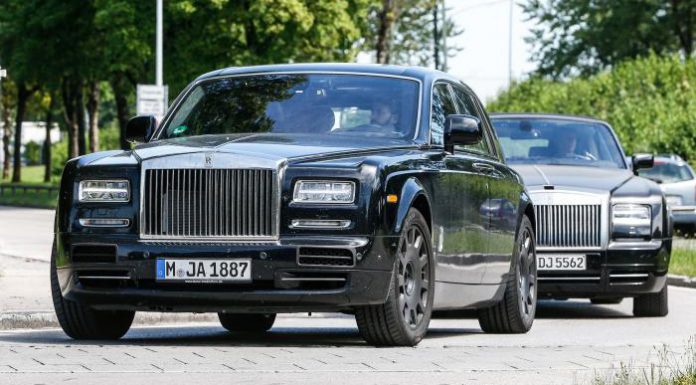 The next-generation Rolls-Royce Phantom has been spied testing for the very first time with the British marque finally set to supersede the current Phantom model.
The following prototype which was spied testing in the United Kingdom features redesigned air intakes at the front suggesting that a new powertrain could be under the hood. Furthermore, the ride height of this Phantom appears to be lower than the current model indicating that a new suspension system has been fitted or the possibility that it has been fitted with a heavy hybrid system.
Incredibly, the current Rolls-Royce Phantom has been in production since 2003 and minus a slight facelift, has remained largely unchanged. It has yet to be decided the platform which will underpin the second-generation Rolls-Royce Phantom but it is possible that the luxury car will utilise a similar architecture to the BMW i3 and i8 which combines aluminium and lightweight carbon fibre throughout.
Under the hood, it is likely the next-gen Phantom will retain the 6.75-litre V12 of the current car but previous statements from Rolls-Royce all but confirm that a plug-in hybrid variant will be offered. Furthermore, if the second-gen Phantom last for over 10 years like the current model, an all-electric version is also likely.
While recently discussing the design of the new Phantom, design chief Giles Taylor said, "I don't feel boxed in by the [existing] design. We are treading an evolutionary path and have a defining vision of modernity. The Wraith was all about modernising the brand. The fastback profile has a contemporary relevance. We are working on how to lay down what we call a 'charismatic expressiveness' for our future design language.
"Cars like the post-war Cloud were inspiring in their surfacing, almost baroque," he continued. "Rolls-Royces have always had flair and movement. We're looking at more charisma and more edge in the future."
[Via Auto Express]