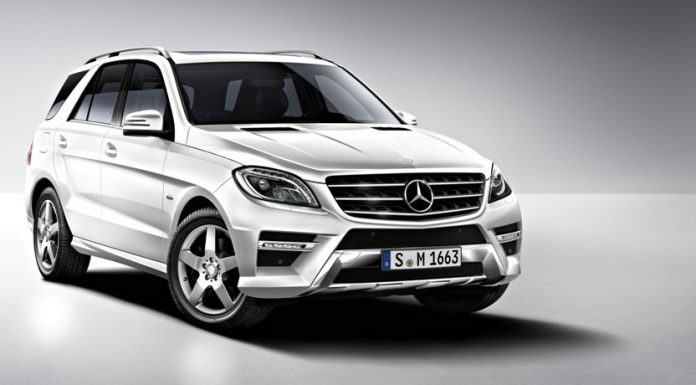 Mercedes-Benz has updated the ML-Class lineup for the 2015 model year alongside the release of two additional engine options for the luxurious off-roader.
First up, the 4.7-litre V8 engine from the Mercedes-Benz ML550 has been ditched in favour of a twin-turbocharged 3.0-litre V6 delivering 329 hp and 354 lb-ft of torque with the model now dubbed the 2015 Mercedes-Benz ML400 4Matic. The original V8 engine consumed 16 mpg on the combined U.S. cycle while the new V6 sips down 20 mpg combined. Alongside the new engine, the ML400 4Matic features a seven-speed automatic transmission complete with a stop-start feature.
As for the second new engine, it is a 2.1-litre twin-turbocharged inline-four delivering a total of 200 hp as well as 369 lb-ft of torque. This engine is fitted to the 2015 Mercedes-Benz ML250 BlueTec and just like the ML400, features a fuel-saving stop-start feature. This model replaces the ML350 BlueTec which had a V6 delivering 240 hp and 455 lb-ft of torque. Importantly however, the ML250 BlueTec weighs 300 pounds less than the ML350 to account for the reduced power.
In terms of fuel economy, the ML350 BlueTec hits about 23 mpg on the combined cycle but the new 2.1-litre twin-turbo of the ML250 should be able to hit 30 mph.
Pricing for the 2015 Mercedes-Benz ML400 has been confirmed at $63,825 but pricing details for the new models haven't been revealed yet.