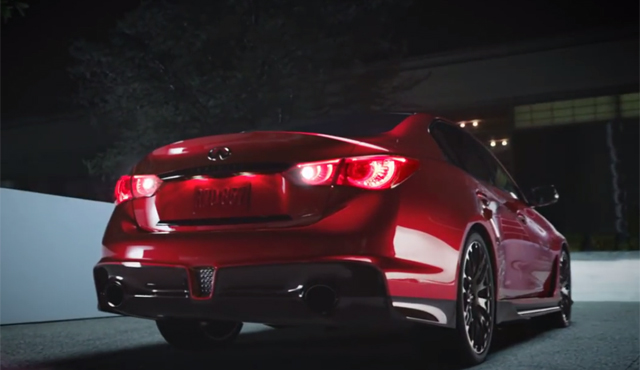 Despite Infiniti still yet to confirm the potent Q50 Eau Rouge for production, it has just released a cool new commercial for the car dubbed 'The Beast Within'.
[youtube]https://www.youtube.com/watch?v=ViE5wwkM8zw[/youtube]
The engine beneath the skin of the Q50 Eau Rouge Concept delivers a total of 568 hp and 600 Nm of torque and comes from the Nissan GT-R. It is mated to a 7-speed transmission driving all four wheels. The all-wheel drive system has a constant 50/50 front-to-rear torque split and predictions suggest the Infiniti Q50 Eau Rouge Concept can hit 100 km/h in less than 4 seconds and a top speed of around 290 km/h (180 mph).
Clearly benefitting from its ongoing involvement with the Red Bull Formula One team, the Infiniti Q50 Eau Rouge Concept also features a host of new aerodynamic components giving it extra downforce. Some of the most notable new aerodynamic parts include a prominent carbon fiber front splitter as well as side skirts and a clean rear diffuser made out of the lightweight material. What's more, the roof of the Q50 Eau Rouge Concept is also carbon fiber, like the new M3's, helping to lower the centre of gravity. All up, the visual modifications make for a 20 mm wider track both front and rear.