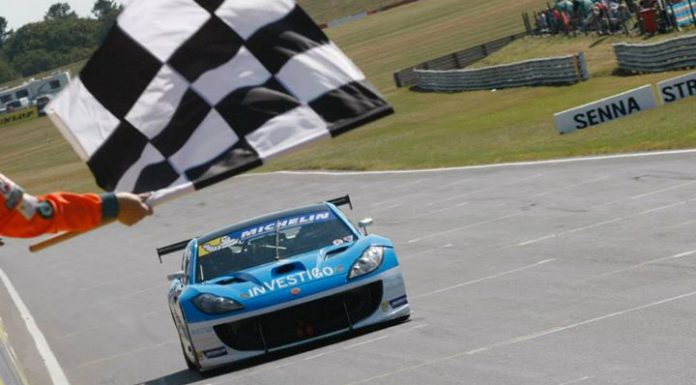 What a great day for 17-year-old Charlie Robertson after he earned a pole position at the Snetterton circuit in Norfolk. The former Ginetta Junior Champion held off David Pittard in qualifying to gain pole and stay leader of the of the Michelin Ginetta GT4 SuperCup championship. But the big question is, will Robertson hold pole position and win the first Michelin Ginetta GT4 SuperCup race of the weekend?
I asked Robertson if he felt confident about being on pole and if he thought he could win the race. Robertson replied "This year I have had some problems with the start but hopefully it's all sorted and I can win the race for the team."
The race started and Charlie Robertson got off to a good start. Round the first bend the drivers go and "oh no" David Pittard dropped a place, Carl breeze overtook him. Robertson still sticking to his word made the gap bigger and bigger out at the front.
With 3 laps completed it was Charlie Robertson in first then in second Carl Breeze and in third David Pittard. As the drivers approached agostini corner Tom Oliphant overtook David Pittard.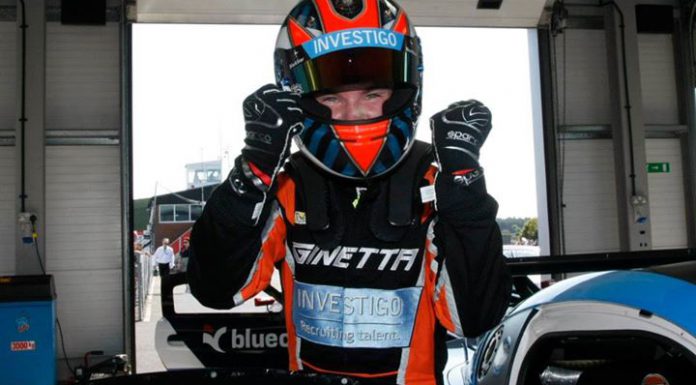 As the drivers started their final lap Charlie Robertson was first with a 3 second lead, Carl breeze in second and Tom Oliphant in third. The drivers started Senna straight and Robertson crossed the line first, closely followed by Carl breeze and in third place Tom Oliphant, then fourth place David Pittard and fifth place Luke Davenport. What a day for Robertson, the team will be so proud of him!
What a great start to a fantastic weekend at Snetterton. See the drivers in action again at the next race meeting on the 23/24th August at Knockhill.
Reporter: Jake Tate
Photographer: Jakob Ebrey
(This article is part of a series of articles from students of the Junior Academy of Media powered by Michelin and Ginetta in cooperation with GTspirit.)