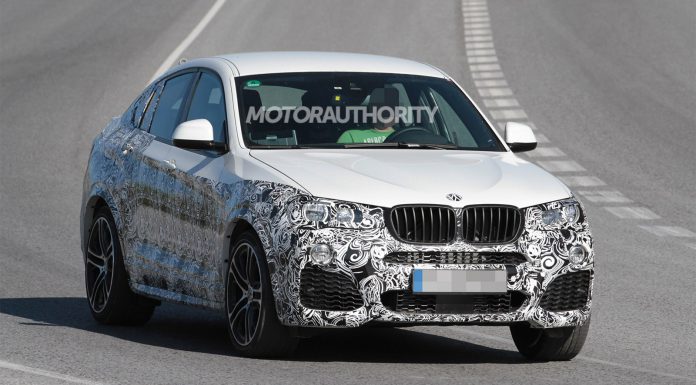 A new high-performance variant of the BMW X4 has been spied testing for the very first time and while it is believed than an X4 M won't be launched, this model is still set to be quite potent.
The car spied is likely to be an M Performance version to top out the range which is currently led by the X4 xDrive35i. While the prototype featured has a lot of camouflage, we can see a host of new visual elements including an aggressive bodykit incorporating a more menacing front bumper, side skirts as well as a revised rear bumper with new dual exiting exhausts.
Furthermore, it appears as though this prototype has larger brakes than used by the X4 xDrive35i indicating that it is indeed a more powerful and faster version rather than one simply wearing an aggressive body kit.
It is speculated that the M Performance model could be dubbed the BMW X4 M40i and beneath the bonnet, it should receive an uprated variant of the xDrive35i's twin-turbocharged 3.0-litre typically producing 300 hp. It is hard to say just how much power the M40i could have, but a figure over 350 hp sounds likely.
According to the latest word, the car will debut at the Frankfurt Auto Show 2015 with deliveries beginning in 2016.
[Via Motor Authority]