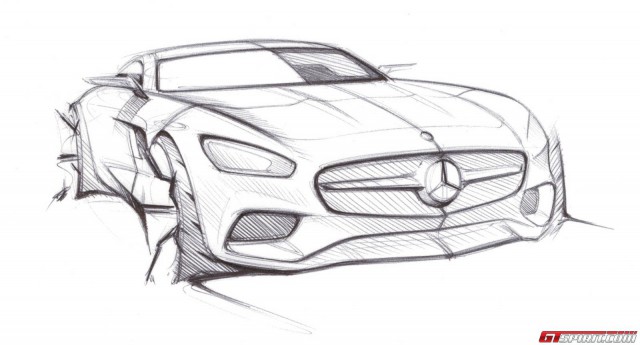 On August 6th, GTsprit was invited by Mercedes-Benz to one of its exclusive workshops. The highlight of that workshop was to see the yet to be unveiled Mercedes-AMG GT and to talk with the designers about it. On September 9th the GT will be shown to the public.
'Modern Luxury' is Mercedes-Benz's current design philosophy and this is apparent on their newest sports car, the AMG GT. The design code contains six slogans: 'Iconisation', 'Stimulating Contrast', 'Stunning proportions', 'Freeform and Geometry', 'Refinement' and 'Natural Attraction'.
First of all the 2015 Mercedes-AMG GT is noticeably shorter but still as wide as the Mercedes-Benz SLS AMG which it replaces.
The grille on the showcar was Mercedes' iconic diamond grille but with a matte finish. The car sits very low and wide on the road. From a high point of view, the cokebottle design is easy to recognize. This means the car features a long bonnet and has wide front and rear arches while between both axles the body is definitely narrower around the doors. This cokebottle design is supposed to resemble a sexy woman and represents the 'Natural Attraction' slogan the designer wanted to create.
Another design attribute viewable from the top view is the curved rear end which is a reminiscent at the 300SL. Different to the 300SL which had no wing, the GT features an automatically deployable wing. The exhaust pipes are noticeably different to the SLS AMG's as on the AMG GT, there are 4 square pipes rather than two rectangular ones.
Elsewhere, new wheels were on display with tyres measuring 295/30 ZR20 in the rear and 265/35 ZR19 in the front. Two different designs of wheels were showcased but both had the same dimensions. One set was matte black with prominent centre caps which resemble the ones from the Mercedes-Benz A45 AMG Edition 1.
The interior is jet inspired. The most apparent design elements which showcase this are the air outlets for the A/C and the buttons above the rear view mirror. These buttons are the shortcuts to enter the Navigation, Radio, Media and Phone which are normally situated in the centre console. The dashboard itself picks up the lines of a jet's wing.
While in the S-Class the designer wanted to create a wrap around cockpit, the Mercedes-AMG GT gets a cockpit which emphasises the forward movement of the car. As a result, the centre console points straight ahead. Behind the seats, a strut bar made of carbon fiber reinforced plastics helps stiffen the car further.
Be sure to stay tuned to GTspirit in the coming weeks for more about the 2015 Mercedes-AMG GT!