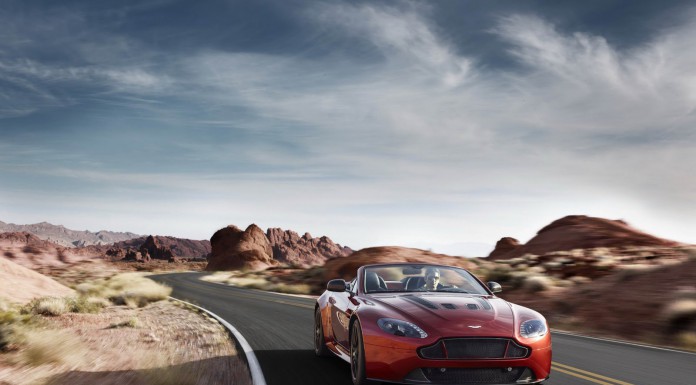 The 2014 Aston Martin V12 Vantage S Roadster is set to make its worldwide debut at the upcoming Pebble Beach Concours d'Elegance from August 14. It will also appear alongside the Aston Martin DP-100 Vision Gran Turismo from the Goodwood Festival of Speed 2014.
Under the hood, the car features the same engine as the V12 Vantage S coupe. That is an uprated version of the normally-aspirated 5.9-liter V12 AM28 engine which is actually the fifth generation of Aston Martin's 5.9-liter V12 engine. In 2015 Aston Martin V12 Vantage S Roadster guise, this powerplant delivers a total of 565 hp therefore matching the power produced by the 2014 Aston Martin Vanquish from the same engine. This horsepower figure then represents a 55 hp gain over the regular Aston Martin V12 Vantage.
In addition to the increased horsepower, the 2014 Aston Martin V12 Vantage S Roadster now produces 457 lb-ft of torque, which is a 37 lb-ft gain over the regular V12 Vantage. This powerful engine is then mated to a seven-speed automated manual transmission taken from the V8 Vantage and outfitted with a longer drive ratio for higher top speeds. The transmission is operated via steering wheel mounted paddle shifters.
As a result of this power and torque, the 2015 Aston Martin V12 Vantage S Roadster will hit 100 km/h from a standstill in a mere 4.0 seconds with an impressive top speed of 323 km/h (201 mph) possible.