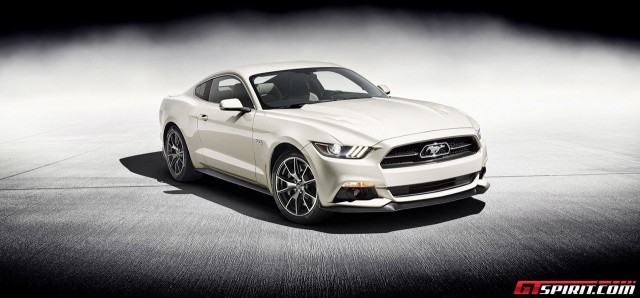 The 1964th example of the 2015 Ford Mustang 50 Year Limited Edition is going to be auctioned off at the Barrett-Jackson Las Vegas event in September.
The highest bidder will also receive a special VIP package to attend the Ford EcoBoost 400 Nascar Sprint Cup at the Homestread-Miami Speedway in mid-November. All proceeds will benefit the Edith and Benson Ford Heart & Vascular Institute.
As the name indicates, the 50 Year Limited Edition celebrates the 50th anniversary of the famous American muscle car and it is limited to 1964 units (also the year the Mustang was first introduced). Based on the Mustang GT, this special edition Mustang features a host of visual changes differentiating it from the regular car.
The Mustang 50 Year Limited Edition is available in Kona Blue or as pictured here, Wimbledon White. Importantly, the 50 Year Limited Edition comes standard with a host of features normally optional on the Mustang GT such as the performance pack. As a matter of fact, all customers can choose between is the exterior colour and whether to use a six-speed manual transmission or an automatic 'box.
Performance details haven't been revealed just yet, but the Mustang 50 Year Limited Edition is fitted with the same 5.0-liter naturally aspirated V8 engine as standard Mustang GT delivering over 420 hp and 390 lb-ft of torque.
Inside the cabin, the car features a uniquely finished axel spin finish across the aluminium trim panel spanning across the instrument panel. It also features individually etched badges as well as a cashmere-stitched, leather-wrapped steering wheel with similar stitching also being featured on the shifter boot, instrument panel, centre armrest, door inserts and seats.