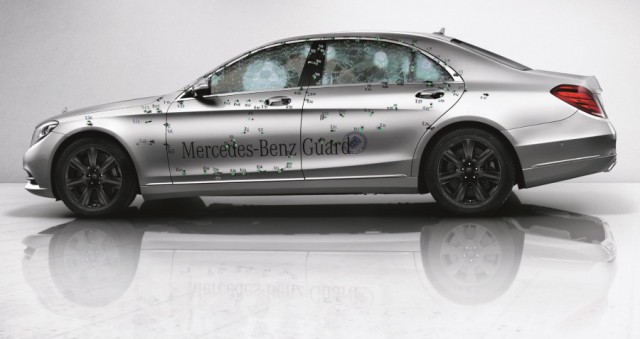 Forget going to an aftermarket firm to have your new Mercedes-Benz S-Class armoured as the German marque itself is working on such a car as we speak and it has just been previewed for the first time.
While an official press release or images of the so-called 2015 Mercedes-Benz S-Class Guard have yet to be revealed, production of the car has commenced and it is promising everything you'd want from such a vehicle.
The car is currently being built across two floors at the Mercedes-Benz Sindelfingen plant in Germany. It is being produced alongside other 'Guard' models like the E-Class, M-Class and G-Class.
Differentiating the new S-Class Guard from the regular car is evidently its utilisation of armour. It has the VR6/VR7 protection level which means it can withstand a host of military weapons and guns as well as small explosives.
To demonstrate just how strong the new S-Class Guard is, its windscreen is 10 cm thick and weighs 135 kg! Additionally, the doors are lined with steel plates with areas like welding seams and door joints compressed with overlaps or U-profiles to ensure they are as strong as possible.
[Via Mercedes-Benz Passion]