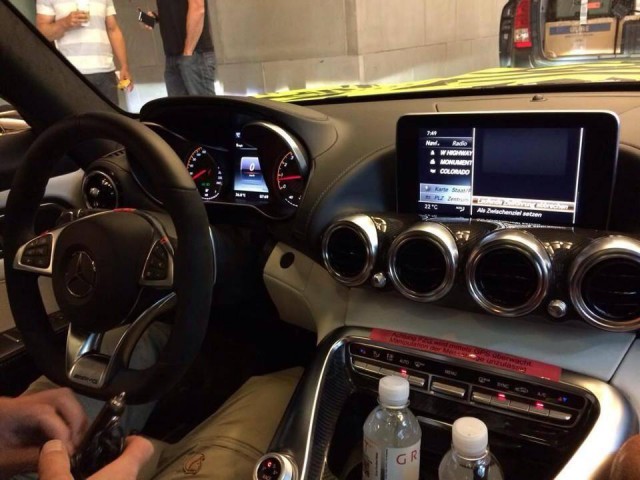 When Mercedes-Benz officially announced the existence of the Mercedes-AMG GT, it dropped a couple of realistic renderings of the interior. Now, the very first real-life image of the interior has been released.
Interestingly, the image is actually from inside the prototype complete with its green and black camouflage. This suggests that an engineer riding shotgun actually released the rather exposing image. As you can see, much of the dashboard design has been influenced by aviation with four centrally located air vents being a key focal point.
Additionally, a relatively compact instrument panel is present alongside an electronic digital display and two more traditional dial gauges. Another key feature distinguishing the cabin of the AMG GT from the outgoing SLS AMG is the adoption of the German firm's new COMAND system topped off with the prominent free-standing central display.
On an engine front, there will be two variants of the Mercedes-AMG GT offered at launch. First off is the entry-level 2015 Mercedes-AMG GT. It features a 4.0-litre biturbo V8 engine delivering 455 hp. The range-topping model is then the Mercedes-AMG GT-S with it featuring the previously confirmed 503 hp engine. Due to the presence of two different models at launch, the new Mercedes-AMG GT will be able to properly compete with the Porsche 911 range as well as the Jaguar F-Type line-up.
According to the latest reports, the car will debut on September 9th ahead of the Paris Motor Show 2014.
[Via Club Mercedes Romania]