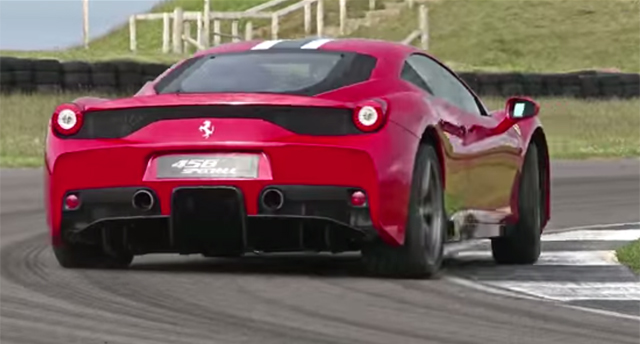 How good is the Ferrari 458 Speciale on the track? Well, the following video courtesy of Evo Magazine show tackling the Anglesey Circuit in the U.K. perfectly demonstrates just how potent this Italian supercar is.
[youtube]https://www.youtube.com/watch?v=hQmmJXm2hCA#t=356[/youtube]
The Ferrari 458 Speciale which was built with more carbon fibre and lightweight materials means it is lighter than the Italia by 102 kg. The mid-mounted engine is a screaming 4.5-litre V8 unit delivering 597 hp and 540 Nm of torque and resulting in a 0-100 km/h sprint of around 3 seconds. The 458 Speciale also has active aerodynamics designed by Ferrari Styling Centre in cooperation with Pininfarina (front and rear movable aerodynamics which balance downforce and cut drag).