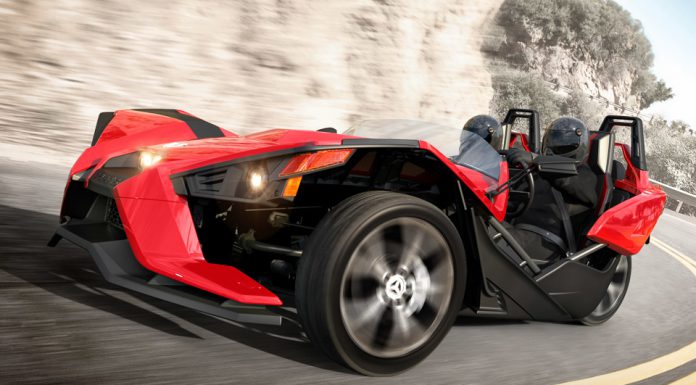 Not long after being teased and previewed, the 2015 Polaris Slingshot has officially been revealed. Designed to rival the likes of the KTM X-Bow despite only feature three wheels, the Slingshot is just as impressive as we'd hoped.
Beneath the uniquely designed body, the Polaris Slingshot is powered by a small 2.4-litre Ecotec engine delivering a total of 173 hp and 166 lb-ft of torque. While Polaris has yet to reveal performance times for the Slingshot, the fact that it weighs just 756 kg (1,666 pounds) means it should be very quick off the line and through the corners.
Beyond rivalling the X-Bow, the Slingshot will aim to take the three-wheeled sports car crown from the Campagna T-Rex. For a visual standpoint at least, it is certainly more eye-catching than the T-Rex. The car utilises a very sharp design with some similarities to the near alien design of the X-Bow being reflected in the Polaris Slingshot. Interestingly, the driver of the Slingshot has to have a motorcycle license to drive the car with helmets also being a necessity.
[youtube]https://www.youtube.com/watch?v=lyDN3wI–Mw[/youtube]
When discussing the car, the man in charge of the Slingshot project at Polaris Chris Doucet said, "A three-wheeled vehicle offers an experience that's just like a motorcycle – the open air and the wind in your face. But the three-wheel stance adds an extra level of stability."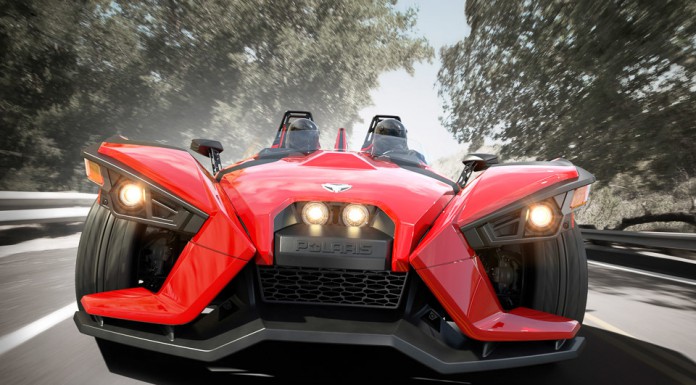 While the name Polaris may be a foreign one to many of our readers, it is in fact a very successful company with sales in 2012 reaching $3.2 billion. The company designs, engineers, manufactures and markets vehicles intended for off-road use. They particularly focus on all-terrain vehicles, snowmobiles and motorcycles.
When the Polaris Slingshot hits the U.S. market in September, it'll start at a mere $19,999 with a fully optioned Slingshot costing just $23,999.