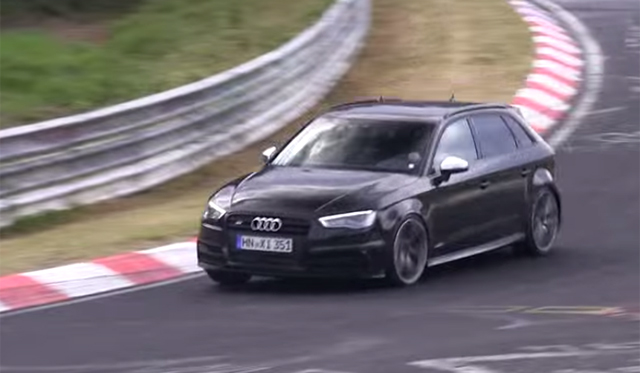 The new Audi RS3 Sportback has been spied testing at the Nurburgring again and as the following video shows, it is set to be a truly astonishing performance car.
Wearing very little camouflage, we don't expect to see any major visual modifications for the latest RS3 Sportback. The most pronounced upgrades will be beneath the skin. Despite early suggestions that a new four-cylinder engine would be used, the engine note of this prototype suggests that an upgraded version of the current 2.5-litre, TFSI, five-cylinder engine is utilised.
[youtube]https://www.youtube.com/watch?v=eLCkcyeDURU[/youtube]
While recently speaking with Australian publication Motoring, Audi Australia product planner Matthew Dale also confirmed that there's potential for the new RS3 to be offered as a sedan for the very first time alongside the regular Sportback variant.
While speaking about the potent five-cylinder engine manufactured by Audi and featured in the extreme Audi A3 Clubsport Quattro Concept, Dale said, "The clubsport [quattro concept] is a view into the future of the RS. The TT RS, RS Q3 and the previous RS 3 Sportback all use the 2.5 TFSI engine, and this [concept] shows you where it can go."
While in the Clubsport this powerplant delivers an absurd 525 hp, the new Audi RS3 is still likely to produce around 400 hp, Consequently, a sprint to 100 km/h in just over four seconds is likely!