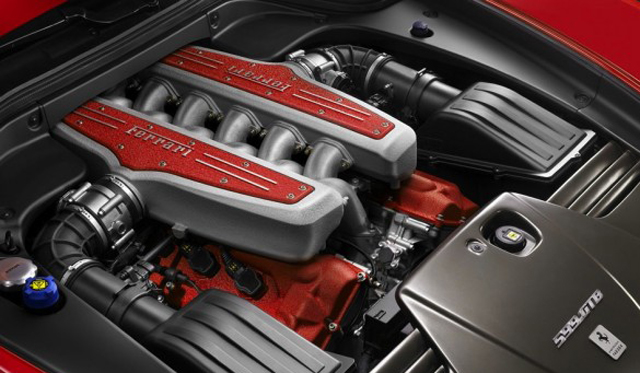 It has emerged that despite Ferrari turbocharging its V8 range, its range-topping V12 engines will remain naturally aspirated into the future for at least the mid-term.
Despite ever-harsher emissions standards around the world, new V12 powered Ferrari models will be even faster and more powerful than ever before. For example, the Ferrari FF will be facelifted in 2016 and it is likely its 6.3-litre V12 will be fettled from 660 hp up to 700 hp. What's more, the Ferrari F12 Berlinetta should receive an update with it to receive revised styling and most importantly, more power from the naturally aspirated V12 powerplant.
To help ensure that its V12 engines survive into the future without forced induction, Ferrari will look further into weight reductions for its V12 powered models. It is understood that for future Ferrari models, the current aluminium construction will be maintained but with new modular structures helping to reduce weight. Additionally, there's a possibility Ferrari will adopt carbon fibre roofs to reduce the centre of gravity of its models alongside improved aerodynamics.
Furthermore, Ferrari is depending new eight-speed transmissions to improve efficiency.
Inevitably however, Ferrari V12s will adopt electric assisted power just like the LaFerrari. But the longer they stay like they currently are the better!
[Via Car Magazine]