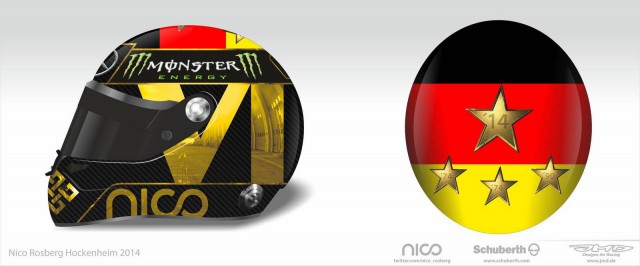 In honour of the German Football team winning the 2014 FIFA World Cup, Mercedes AMG Petronas driver Nico Rosberg has revealed a special World Cup special edition helmet. He will use it at the German GP this coming weekend. The helmet was designed and made by Schuberth GmbH and Jens Munser Design. Rosberg still leads the drivers standings with 165 points followed by Hamilton with 161 and Ricciardo with 98.
The German has had a successful season so far as he won the first race of the season in Australia, claimed a podium finish in Malaysia, Bahrain, China and the list goes on. The Mercedes AMG Petronas team has been very successful this season too as they lead the constructors' points with 326 to Red Bull's 168 and Ferrari's 106. Mercedes built engines have proven to be the best in every round of the championship.
As the image above shows, Rosberg's special World Cup 2014 helmet features four large golden starts to commemorate the four World Cup victories has taken in the past.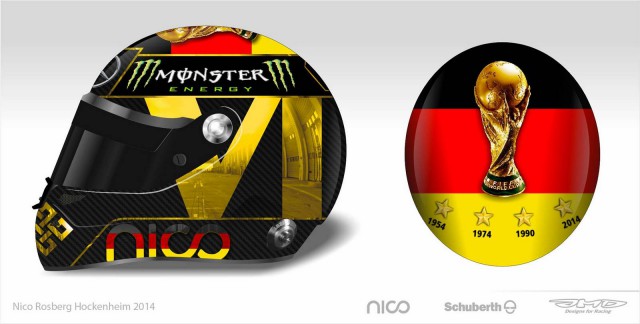 Originally, the helmet was painted with the official World Cup 2014 trophy, but due to legal reasons that had to be scrapped.
When discussing the change, he said, "It's a shame, I would have loved to carry the trophy as a tribute to the guys. but of course I respect the legal situation. Now I've got the fourth star big on the helmet and the other three smaller around it. nNobody can take the star away from us!"