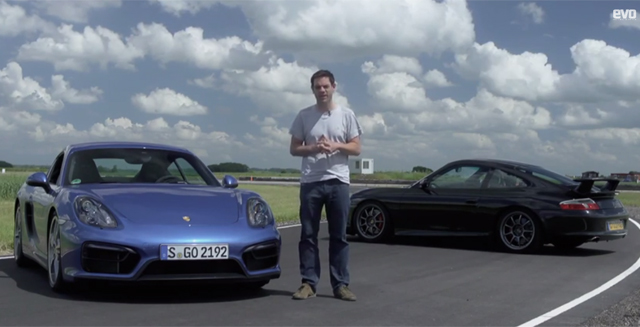 The brand new 2014 Porsche Cayman GTS is the most potent Cayman variant available to customers. With a host of performance upgrades and visual changes compared to the Cayman S, the GTS has already been praised by journalists around the world. However, how does the latest generation mid-engined Porsche sports car compared to say a Porsche 996 911 GT3? Well, Evo Magazine has set out to answer that question.
[youtube]https://www.youtube.com/watch?v=NTv1iNB9gJA#t=71[/youtube]
From a price standpoint, the two can be purchased for about the same. The Cayman S features the 3.4-liter six-cylinder engine currently also used in the Cayman S. However, it has now been tuned to deliver an impressive 15 hp extra resulting in the Cayman GTS delivering a total of 340 hp. Torque has also risen by 10 Nm and with the Sport Chrono package as standard, the Cayman GTS can sprint to 100 km/h in a brisk 4.6 seconds.
By comparison, the Porsche 996 GT3 manages to deliver 381 hp and 284 lb-ft of torque. So which is faster around the track? Well, watch the video to find out!