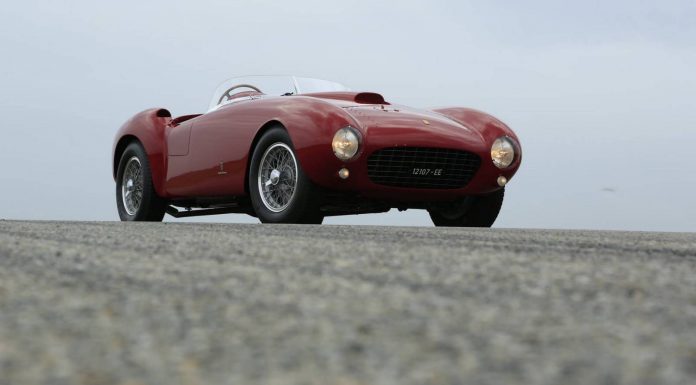 Ferrari designed the 375 Mille Miglia from the ground up for endurance racing, with its first public appearance being at the 1953 24 Hours of Le Mans. Chassis number 0362 put Maranello's engineer's work to the test, competing in several road racing events across America, giving it a lengthy and interesting history which will no doubt add to its appeal when it crosses the auction block at Mecum's Monterey, California auction on August 16th.
The car was delivered from Ferrari to Southern Californian construction magnate Anthony Parravano in early 1954. Shortly after the car's arrival, Parravano prepped the car in his Los Angeles shop and hit an unbelievable top speed of 172 mph (276 km/h) on the dried up bed of Lake El Mirage in the Mojave Desert. Its first organized race came on June 6, 1954 at the Guardsman Campership Road Races in San Francisco, which it won.
The 375 earned its second win at the Palm Springs Road Races in 1954 in the hands of Bob Drake on October 17, 1954. Not long after on March 15, 1955, the car caught fire on the seventh lap of the 12 Hours of Sebring. It was quickly repaired in order to compete in the Palm Springs Road Races, which it managed to win following a hair-raising three way duel in the closing laps. Unfortunately, more bad luck struck Parravano and his 375 after it was rolled in a race in Bakersfield, California.
Parravano was executing plans to repair the car and shorten the wheelbase when he was involved in a dispute with the IRS, forcing him to transport his cars to Mexico so they wouldn't be seized .The modified and incomplete 0362 375 chassis was purchased by another L.A.-based construction contractor, Frank Arciero in 1957. Arciero continued to race the now modified 375, and entered it in the 1958 Times-Mirror Grand Prix at Riverside where it finished second in the hands of racing driver Dan Gurney.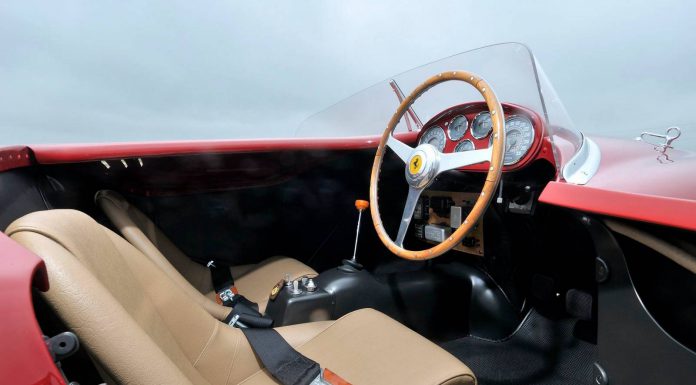 From 1958 through to 1961, 0362 was a regular entrant in major racing events and SCCA races before the rolling chassis was sold to Charles Betz and Fred Peters in 1968. Peters and Betz located small parts of the car bit by bit, and got their lucky break when in 1986 Bob Sorrell, who had purchased many of the assets from Parravano's race team Scuderia Parravano when it went under, decided to sell his cars and parts. In Sorrell's collection were more of the 375's original parts than Betz and Peters ever imagined, including the identification plate, the missing frame section from Parravano's attempted repairs, the floor pans, firewall, hood, passenger seat and more.
The car was then fully restored to its original appearance from when it left Maranello in 1954. Today it boasts many original parts, including the interior lights, switches, and instruments. As with any Ferrari carrying a rich and interesting provenance such as this, the 375 Mille Migilia will attract a large asking price when it's auctioned off next month.