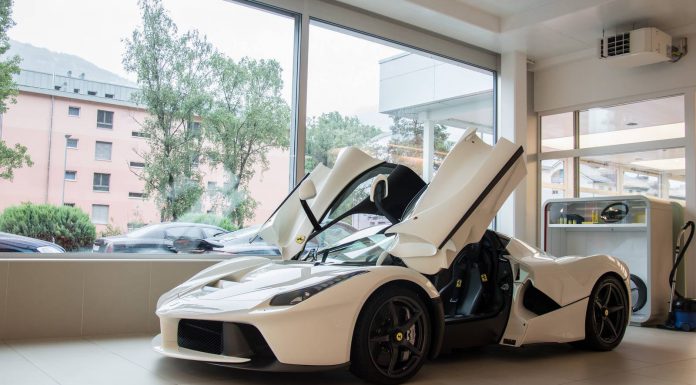 We've seen yellow, black, red, silver as well as a bright green example of the 2014 Ferrari LaFerrari. Now we've stumbled up pictures of an epic white LaFerrari recently spotted at a dealership.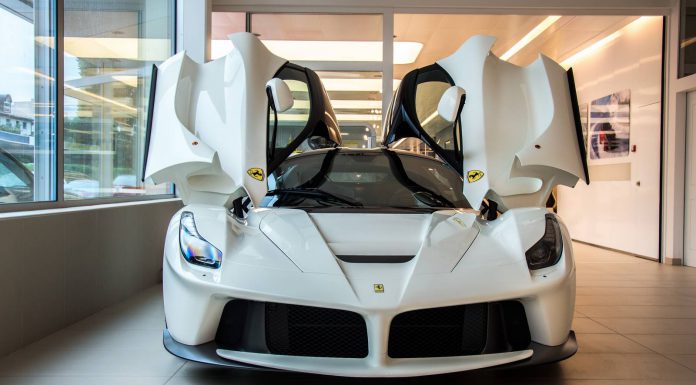 As the images show, this LaFerrari is rolling on a set of matte black wheels which contrast beautifully with the paint work. Elsewhere, the car features black window frames as well as a black roof and tailgate stretching over the monstrous V12 engine. Some may say white is a bland colour for a car, but after seeing this white LaFerrari, we beg to differ!
In case you didn't know, the LaFerrari gets a 6.3 liter V12 which is connected to an electric motor similar to the system on the McLaren P1. The Ferrari F150 V12 has an output of 789 hp at 9000 rpm and 700 Nm at 7000 rpm while its electric motor has a maximum output of 161 hp and 270 Nm of torque. That delivers a total combined power output of 950 hp, allowing the new Ferrari Enzo to do 0-100 km/h in less than 3 seconds, 0-300 km/h in 15 seconds and a top speed in excess of 350 km/h.