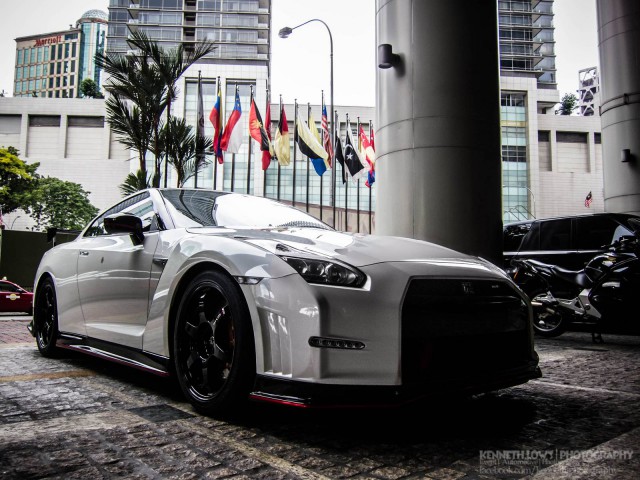 As the most potent road-legal variant of the already brutally fast Nissan GT-R, the GT-R Nismo simply redefines what you think of acceleration and cornering g-forces. As a matter of fact, the Porsche 918 Spyder is the only globally homologated road car around the Nurburgring faster than the GT-R Nismo and it has about 300 hp more!
Now, the very first example has been delivered to Malaysia and finished in white, it looks truly incredible!
The Nissan GT-R Nismo features the familiar 3.8-litre V6 VR38DETT engine, freshly uprated to 591 hp and 652 Nm of torque. To release the extra power, Nismo fit new high-flow, large diameter turbochargers, which come directly from GT3 racing. Nismo have also optimised the individual ignition timing control for each cylinder and upgraded fuel pump improve combustion.
Nismo have worked with Bilstein to develop springs and custom Bilstein DampTronic dampers for the front and rear suspension. Three suspension modes can be selected; Comfort, Normal and R for circuit applications. Nismo haste also worked their magic on the suspension couplings, wheel hub attachments and fitted a new hollow anti-roll bar.
From a visual standpoint, the Nissan GT-R Nismo gains a number of fresh parts. These include a new front bumper, engine undercover strake and carbon rear spoiler, increasing downforce by 100kg at 300km/h. The drag is just Cd 0.26 which is the same as that of 2014 Nissan GT-R.