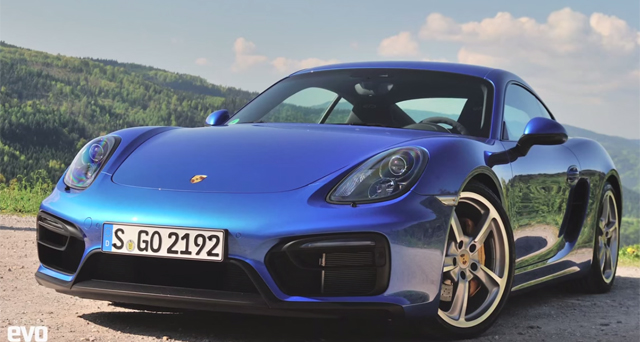 While a Porsche Cayman GT4 variant pinned to deliver 450 hp is on the cards, the most potent Cayman variant is the new GTS. With a host of performance modifications to make it even better than the standard car, the Porsche Cayman GTS not only goes very fast in a straight line and through the corners, but actually sounds truly incredible.
[youtube]https://www.youtube.com/watch?v=2MkpTyMNV8E#t=77[/youtube]
As evidenced by the following video with Evo Magazine's Henry Catchpole behind the wheel, this Porsche Cayman GTS is fitted with the sports exhaust system and sounds truly breathtaking!
Beneath the body, the 2014 Porsche Cayman GTS features the 3.4-liter six-cylinder engine currently also used in the Cayman S. However, it has now been tuned to deliver an impressive 15 hp extra resulting in the Cayman GTS delivering a total of 340 hp. Torque has also risen by 10 Nm and with the Sport Chrono package as standard, the Cayman GTS can sprint to 100 km/h in a brisk 4.6 seconds.
Importantly, the car comes standard with a six-speed manual transmission. When equipped with this gearbox, the car tops out at an impressive 285 km/h. Despite the extra performance and power, when optioned with the PDK gearbox, it returns an impressive overall fuel consumption of just 8.2-liters per 100 km.
Visually, the 2014 Porsche Cayman GTS features a more aggressive front bumper with prominent darkened air intakes surrounds and lower front splitter with GTS decals being found on the sides. At the rear, it comes with a prominent bootlid spoiler, dual centrally exiting exhaust pipes and a more aggressive rear diffuser.