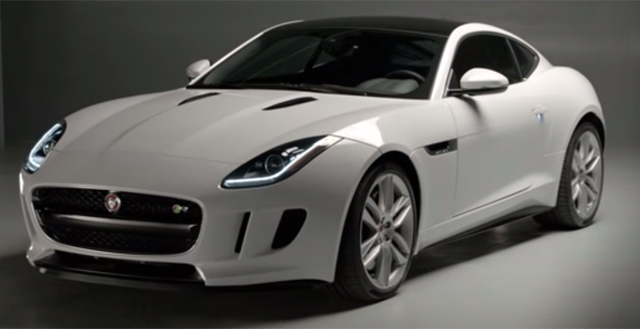 Jaguar has just revealed the latest commercial for the 2015 Jaguar F-Type R Coupe. The commercial features actor Robert Young as the latest villain to get a taste of the new F-Type R Coupe. During the minute long ad dubbed 'The Winning Choice', Jaguar also takes a bit of a stab at the Porsche 911, Audi R8 and Mercedes-Benz SL 63 AMG.
[youtube]https://www.youtube.com/watch?v=cghSjABYuuk[/youtube]
As the current range-topping F-Type, the R Coupe is quite exceptional. It features a supercharged 5.0-liter V8 engine producing an insane 550 hp. Consequently, Jaguar promises the F-Type R Coupé can sprint from 0-100 km/h in just 4.2 seconds, 80-120 km/h in a mere 2.4 seconds and an electronically limited top speed of 300 km/h.
The supercharged engine powering the Jaguar F-Type R Coupé not only produces immense power, it also has a few nice features up its sleeve including spray-guided direction injection as well as dual independent variable cam timing. The lightweight aluminium block has then been stiffened with cast-iron liners and cross-bolted main bearing caps. Just like all other F-Type Coupé and Convertible variants, the engine is mated to a ZF Quickshift eight-speed transmission driving the rear wheels.
Other notable features include an Adaptive Dynamics system which controls vertical body movement, roll and pitch rates. This system has been designed to continually monitor driver inputs and therefore adjust damper rates up to 500 times a second to optimise stability. Working in line with this system, the F-Type R Coupé features revised spring rates increased by 4.3% at the front and 3.7% at the rear compared to the F-Type V8 S Convertible.