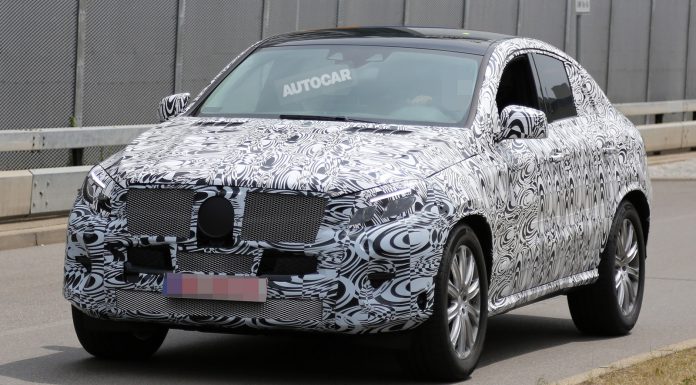 The upcoming Mercedes-Benz ML Coupe is expected to launch at the New York Auto Show 2015 it has emerged. The car will then go on sale in the second half of next year.
Prior to mid-May it was speculated that the Mercedes-Benz ML Coupe would be called the Mercedes-Benz MLC. However, ML Coupe is now the favoured name with it fitting in line with models like the C-Class Coupe and S-Class Coupe etc.
While prototypes have only been seen wearing heavy camouflage, we know the ML Coupe will resemble the Concept Coupe SUV from the Beijing Motor Show very closely. A recent prototype was spotted in heavy camouflage, but the same overall shape was present. However, as is typically the case, the production-spec Mercedes-Benz ML Coupe will feature redesigned bumpers both front and rear as well as larger wing mirrors. It is also likely that slightly tweaked headlights and taillights will feature.
The production-spec Mercedes-Benz ML Coupe will rival the BMW X6 and is expected to be available with a host of different engines. For starters, both petrol and diesel V6 engines are expected alongside a very economical hybrid. At the top of the range, we can expect to see a V8 powered ML 63 AMG Coupe and an ML 65 AMG Coupe powered by a V12 engine!
The Mercedes-Benz ML Coupe will of course be just the latest model in the German firm's ever increasing stable of SUVs which could soon spawn a GLA Coupe as well as a line of 'on-road' SUVs!
[Via Autocar]