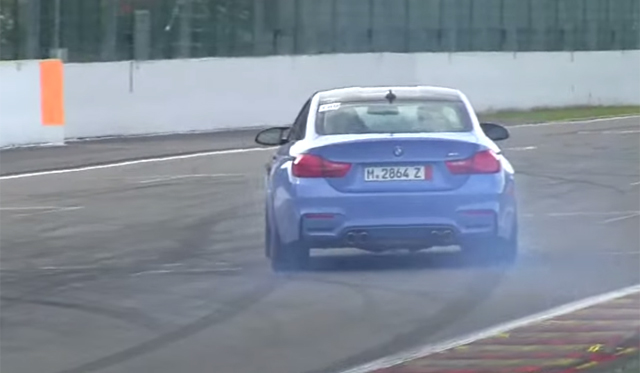 A stunning blue BMW M4 Coupe was recently filmed at Spa-Francorchamps performing some fairly epic drifts just to show that while it may have lost its V8 power, it certainly hasn't lost any of its animalistic qualities!
[youtube]https://www.youtube.com/watch?v=vHtx3pO80wE#t=46[/youtube]
The latest generation BMW M4 is not quite the same as the outgoing model. As you probably know, the naming strategy has changed this time around and the BMW M4 becomes a purely coupe model. The new BMW M4 weighs around 80 kg less than the outgoing model. The weigh reductions are achieved through the use of carbon fiber reinforced plastic as well as a carbon fiber roof and aluminium chassis and body components.
The BMW M4 gets a 3.0 litre twin-turbocharged six-cylinder engine which revs to 7,600 rpm, producing an impressive 431 hp between 5,390 rpm and 7,000 rpm and 406 lb-ft of torque from as low as 1,800 rpm to 5,390 rpm. The BMW M4 will sprint to 100 km/h from a standstill in just 4.1 seconds. Top speed is limited to 250 km/h but this can be increased to 280 km/h with the optional M driver's package.