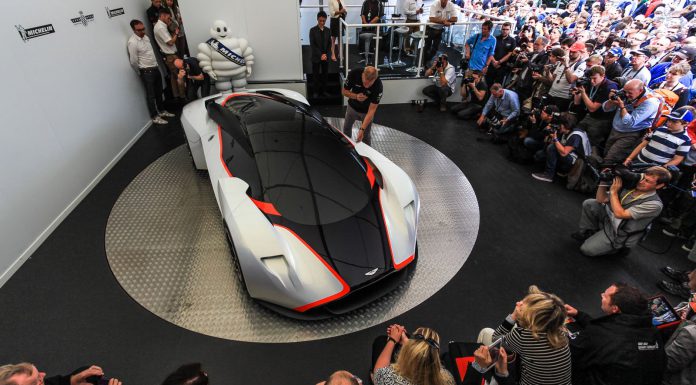 Goodwood Festival of Speed 2014 is playing host to the Aston Martin DP100 Vision Gran Turismo! The concept is a joint venture, much like Mercedes-Benz and Nissan have already done. Aston Martin gave us permission to take a look at the concept as it was unveiled to the world at the Michelin Supercar Paddock stand at Goodwood this morning!
The Aston Martin DP100 Vision Gran Turismo is a car designed exclusively for the Playstation 4 and the Gran Turismo game. As it doesn't need to conform to any conventional road rules, Aston Martin designers were give free reign. The car will be available to download in electronic form by the middle of July.
The Aston Martin DP100 Vision Gran Turismo is an 800 hp monster. It features a twin-turbo V12 mounted to the middle of the car so that, in electronic form at least, it should be extremely quick. We are told that the light blade rear lamps could be used on a conventional Aston Martin road car of the future. The rest is pure fantasy for the time being!
Kazunori Yamauchi, the creator of Gran Turismo and President of Polyphony Digital Inc was also on hand. He was quoted by Aston Martin:
"When I first came face to face with this car at the Aston Martin Headquarters in Gaydon, UK, I was at a loss for words seeing the level of perfection in its design. I was surprised by the bold proposal of the car being the first midship layout model in Aston Martin history. And while it is clean and classy in design, it is also very emotional. Not only that, there was this future Aston Martin in front of me, that was so detailed it could be released on the market pretty much as is."