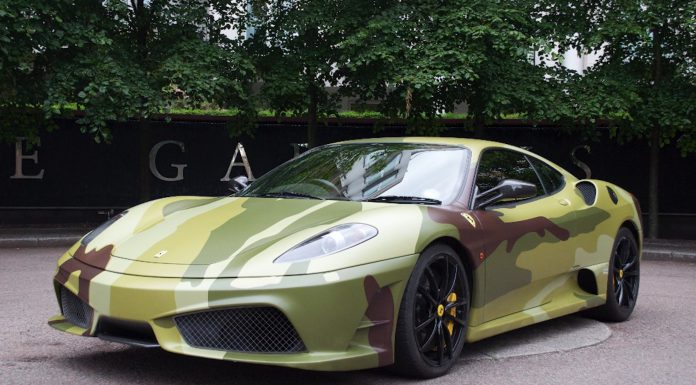 The Ferrari 430 Scuderia is a mechanical masterpiece and was a step-up from the standard 430. It is 220lb lighter and is 22hp more powerful bringing the total to 508hp. The numbers only tell half of the story. This car is such an icon not only for raw pace but as an experience as a whole. It is organic and pure.
Yes the Scuderia has the same aids as any other Ferrari but unlike the 599 GTO or the F12 Berlinetta, they are never as intrusive, this car is more about driving than being driven. It was the last Ferrari road car to have a single clutch gearbox, every tug of the wheel mounted paddles would snap the next gear into place with brutal ferocity. All of this before we even come onto the sound of this Italian monster, it is one of the best V8 noises ever and is guaranteed to bring a smile to anyone who ever had the chance to have a go in a Scuderia!
Here we have a unique Scuderia that is for sale in London. The army camouflage wrapped supercar has been put for sale for a cool £179,995 (approx €225,000). If you want to own this rather unique and very special Scuderia check out the full advert here!