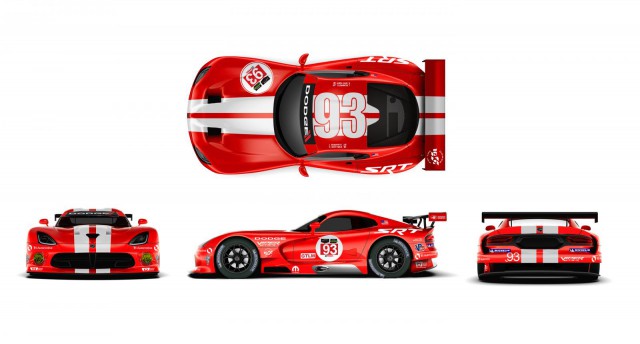 Just last month, it was confirmed that Dodge had put the knife into the throat of SRT as a standalone brand. As a result, the once SRT Viper will again be the Dodge Viper. Accordingly, the American manufacturer has just revealed its new 2014 racer now dubbed the Dodge Viper SRT GTS-R instead of the SRT Viper GTS-R.
Further changes to the car include an eye-catching red and white livery as well as newly equipped Dodge decals on the windscreen and quarter panels up front.
When discussing the new car and its livery, SRT Motorsports CEO Ralph Gilles said, "We are honoring the racing history of the Dodge Viper by returning to its classic colors as we are in the midst of celebrating the Dodge brand's 100th anniversary and 100 years of American performance. The new livery not only brings back this classic look but also enables us to continue to connect our Viper racing program to its spirited racing heritage."
In case you didn't know, two Viper SRT GTS-Rs compete in the 2014 IMSA Tudor United SportsCar Championship and the new liveries will debut at the upcoming Saheln's Six Hours of the Glen held from June 27-29 at New York's famous Watkins Glen International Circuit.