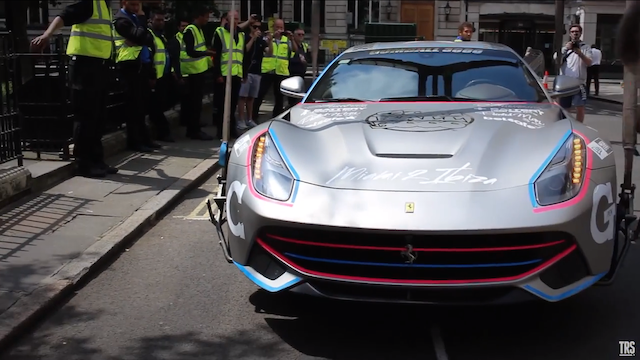 Gumball 3000 travelled all the way from Miami to Ibiza this year. On the way the rally rolled through London where the teams parked up and hit a Mayfair club for the night. The next morning the grid moved on and the road reopened…although one car remained! This Gumball Ferrari F12 Berlinetta sat in the middle of the road after all the other contestants moved on. There was only one solution, to tow the car to the side of the road!
[youtube]https://www.youtube.com/watch?v=jVG0lpq57-E[/youtube]
The F12′s V12 produces 730 hp at 8500 rpm and 509 lb-ft of torque at 6000 rpm, making it the most powerful road-legal Ferrari to date, only surpassed by the new LaFerrari hypercar. This results in the F12 to accelerate from 0 to 100 km/h in an officially reported 3.1 seconds and will not stop accelerating hard until it hits a staggering 340km/h.