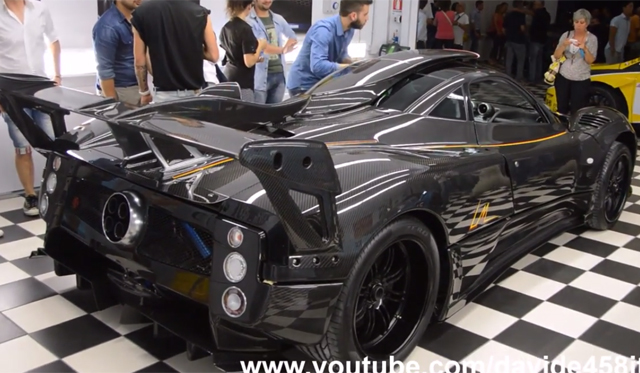 Just after the first pictures of it emerged, the incredible Pagani Zonda 760 LM has recently unveiled at a special event. Despite the front suspension remaining raised during the event giving the car a rather strange look, under fluorescent lights, the new Zonda LM really pops thanks to the bare carbon fibre finish!
Following on from the likes of the Zonda 760RS, 760LH, 764 Passione and 760 Fantasma, the 760 LM is undeniably the most eye-catching road-going Zonda produced to date. Alongside this central fin of all 760 series Zondas, the car includes a prominent roof scoop, massive rear diffuser and most noteworthy is the massive rear wing with huge end plates at either side.
[youtube]https://www.youtube.com/watch?v=LhlJt6NW5Fk[/youtube]
Up front, the changes continue. Gone are the exposed headlights and in their place are swollen front wheel arches as well as clear plastic covering the headlights like a traditional car. Inevitably, this design change does improve the aerodynamics of the car. Additionally, the hood of the car incorporates two prominent air ducts unlike other road-going Zondas and instead like the race-track only Zonda R. The visual changes are completed with LM decals on the sides, brake calipers finished in the Italian flag and a bare carbon fibre body.
The owner of the new Pagani Zonda 760 LM reportedly owns many other Zondas including a Cinque Roadster and Zonda R.