With Bentley's recent re-entry into the world of GT racing, its road car division has chosen to release a GT3 inspired Bentley Continental GT3-R. Based upon the fantastic V8 model, the Bentley Continental GT3-R is lighter, more powerful and less practical than the standard car.
The Bentley Continental GT3 is billed as the ultimate GT. It is a strict two seater which accounts for part of the 100 kg weight loss. It is hand built by engineers in Crewe and finished in Bentley's Motorsport division. Just 300 will be offered to the public as part of a limited production run.
Bentley have opted to use the same 4.0-litre twin-turbo V8 for the GT3-R. It comes with 580 hp and 700 Nm of torque, with the 100 kg weight loss and shorter gearing, the GT3-R is capable of reaching 60 mph from a standstill in just 3.6 seconds (0-100 km/h in 3.8 secs). Upgrades have also been applied to the power train with torque vectoring now available together with a modified Electronic Stability Control (ESC) and a new chassis tune.
The car also features an all-new titanium exhaust for improved sound and a weight saving of 7 kg. New lightweight forged 21 inch wheels and high-grip Pirelli tyres improve grip and handling. The braking system is a Carbon Silicon Carbide system featuring 420 mm front discs with 8-piston calipers finished in green paint and 356 mm discs at the rear axel.
Inside, the various surfaces are covered in carbon fibre, Alcantara and the finest leather. The two seats are bespoke sporting seats with additional side support with deeper bolsters and Beluga black leather with diamond-quilted Alcantara. Alcantara also lines the steering wheel and gear shifter, while the centre console and fascia panels are handcrafted in carbon fibre. In place of the rear seats is a carbon surround and leather and Alcantara area.
Contrasting accents are a vivid shade of green and are used as a hide colour on the seats, instrument panel and door panels and in contrast stitching throughout the seats and diamond-quilted areas. GT3-R badging adorns the centre console, passenger-side fascia panel and sill treadplates, while the seats receive GT3-R stitching to the headrests in contrast-green thread.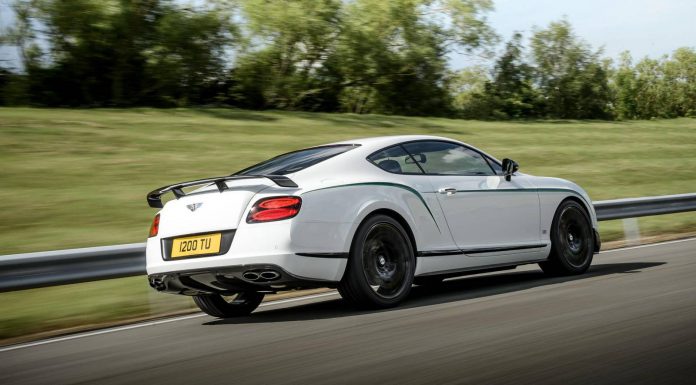 The exterior changes are something quite different for Bentley. The Bentley Continental GT3-R gets a new front splitter, a new fixed rear wing fitted to the boot lid and bonnet vents to improve the cooling. All are finished in gloss carbon fibre together with Glacier White paintwork and a two-tone green side graphic.
Headlamp bezels, matrix grille, window surrounds and bumper strips are all finished in stylish gloss black. Every customer will get free standard servicing for four years (at the 10,000, 20,000 and 30,000 mile marks). Order books are now open and deliveries will start late in 2014.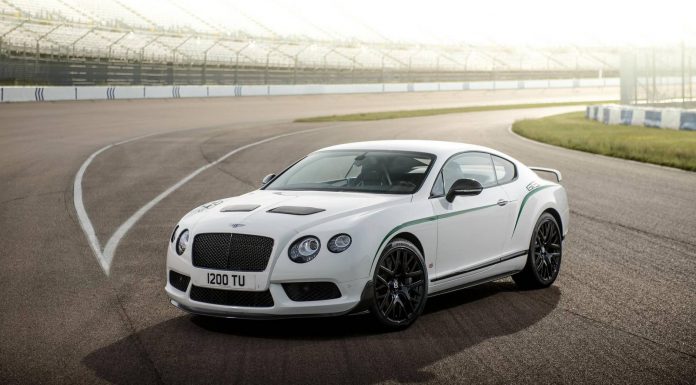 Wolfgang Dürheimer, Chairman and Chief Executive of Bentley Motors, comments:
"The experience of driving a Continental GT3-R is awe-inspiring, and takes the dynamic abilities of our Grand Tourer to new heights. We were inspired to create something extremely special for the road by the performance of our Continental GT3. It is a celebration of the Bentley passion for building outstanding drivers' cars. To be a true Bentley, the GT3-R had to be the most luxurious track-inspired Grand Tourer ever, and this car pushes our trademark combination of luxury and performance to a new level."
Commenting on the performance of the new Continental GT3-R, Bentley's Member of the Board for Engineering, Rolf Frech, comments:
"We wanted to develop our powertrain and chassis systems further than ever before for the GT3-R project. The result is a Continental GT that is more dynamic than ever, with a torque vectoring system that neutralises understeer and a chassis tune that is both direct and forgiving. We've differentiated the Drive and Sport modes further to give the driver a choice between a relaxed and refined Grand Tourer and a sharp supercar with instant responses. The reflexes of the car are matched by the throttle response from our redeveloped V8 engine, and the new turbochargers eliminate turbo lag. Bentleys are rewarding drivers' cars – but dynamically, the GT3-R is our finest hour yet."