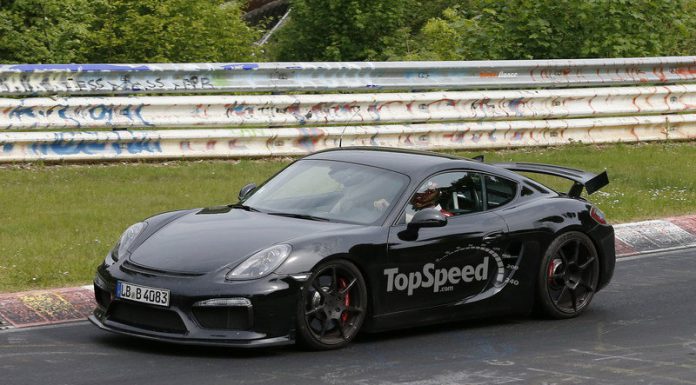 Sporting a massive rear wing, flared wheel arches, an aggressive front fascia, splitter and rollcage, we know that Porsche is testing a very exciting Cayman variant. Currently dubbed the Porsche Cayman GT4, the prototype was recently snapped doing laps at the Nurburgring with two engineers inside.
Details about the car remain unclear and it isn't yet known if the Porsche Cayman GT4 will be based around the next-generation Cayman or simply the current car. Either way, Porsche has two powertrain options. The first is an upgraded version of the flat-six engine currently utilised by the Cayman and Boxster and currently producing 340 hp in range-topping Cayman GTS specification.
However, there is a possibility that the Porsche Cayman GT4, also likely to be offered in Boxster specification as the RS Spyder, will make use of an inline-4 cylinder turbocharged engine which could utilise a similar hybrid setup to the Porsche 919 Hybrid endurance racer.
Alongside the new visual and aerodynamic features like the large rear wing and front splitter, we expect the Cayman GT4 to feature a stripped-down interior to save on weight. When combined with a powerplant very likely to push out in the range of 400 hp, the Porsche Cayman GT4 could quite easily rival the thrills of the latest-generation 911 GT3!
[Via TopSpeed]