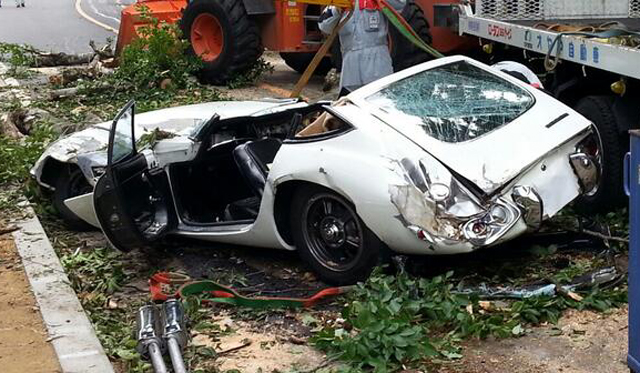 A stunning 1967 Toyota 2000GT has been absolutely destroyed in Japan after being crushed by a massive 98-foot tall tree in the Gokoyama area in the Touoma Prefecture.
It is believed that the massive tree feel after rotting away for many years. When it did fall, a 28-year-old was behind the wheel of the classic Japanese sports car. Incredibly, the driver escaped with just cuts despite the entire car being destroyed by the falling tree.
As for the Toyota 2000GT, it is just a shell of its former self. It looks as though every single panel has been extensively damaged which is hardly surprising considering the enormity of the object that took it out! As a result, don't expect this 2000GT to ever be restored and to go anywhere other than a scrap yard or if it's lucky, into a museum or the owner's garage to rest in peace.
To any Japanese sports car enthusiasts out there, you'll know all too well just how important the Toyota 2000GT is. Last year, one example sold for a record $1.15 million. A mere 351 examples were produced and under the elongated hood, the Toyota 2000GT features a 2.0-litre, straight-six DOHC engine delivering 150 hp and 130 lb-ft of torque. As a result, the car can hit 100 km/h in 10 seconds and a 217 km/h top speed.
[Image via Twitter]